Leeds Bradford Airport Premier Lounge
Escape the airport crowds
If you're looking for a proper Yorkshire lounge with proper Yorkshire tea and local delicacies, then this lounge is just what you're looking for. The perfect place to kill some time with loads of facilities like wifi and gaming consoles. There's even a kid's activity room.
Reasons to book
• A proper Yorkshire lounge, complete with Yorkshire delicacies.
• Tweet up a storm without running up your bill by taking advantage of free wifi.
• For kids and gamers, the lounge comes equipped with Wii consoles and board games. Just don't get so absorbed you miss your flight!
• Keep your little monsters happy with their own family room with games, a Wii and DVDs.
Lounge facilities
The Premier Lounge features Free snacks/drinks, Free wifi, Newspapers, Magazines, Flight info, Flatscreen TV, DVDs, Games consoles, Colouring books, Board games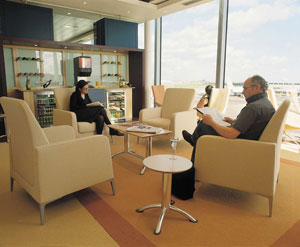 • Children allowed
• Disabled access
• Flight announcements
• Free drinks
• Free snacks
• Internet
• Phone
• TV
• Wifi
Opening times
5am
8pm
Children permitted
Children of all ages are welcomed into the Premier lounge. There is a separate family area in the lounge specifically for children & families that have children who are under the age of 12.
Dress code
The lounge has a smart casual dress code. Please be considerate of other guests and ensure your behaviour is reasonable at all times. Staff have the right to ask customers behaving inappropriately to leave the lounge at any time. No refund will be given if this happens.
Search now for prices and availability...
Food and drink
The lounge offers a range of free food and drink. The lounge particularly prides itself on offering local brands such as Yorkshire tea and Yorkshire crisps. In addition, you can sample toast, croissants, pastries, scones, biscuits and fruit. To drink, there's also coffee, juice, soft drinks, red, white and rose wines, bottled beer and spirits.
Entertainment facilities
Wifi, newspapers and magazines, flatscreen TVs, DVDs and gaming consoles.
Disabled facilities
The lounge is able to accommodate disabled passengers.
Business facilities
Free wifi.
Check out other pages related to Premier Lounge