Luton Airport Hotels
Guaranteed Best Prices on 18 Hotel Deals
4715

reviews scored an average of for our

Luton hotels

Only the best, quality-assured hotel services from Holiday Extras

FREE IF

- FREE airport parking
Save up to

60%

on Luton airport hotels
Book one of our 10 Luton airport hotels so that you can relax after a good nights sleep, just a short distance from the terminal and avoid the rush of traffic to Luton Airport. Our hotels are all just minutes from the airport, and our prices start from £36.00 per night. Two of our cheapest hotels at Luton Airport are the Ibis and the Days Hotel, both of which can be booked with parking included for a great package deal.
Hotel
Facilities
Distance to airport
Customer reviews
Price*
The alarm wakes you after five hours' sleep. It's 3am - time to get up and set off on the two-hour drive to the airport. Actually, oh dear, it's 3.30am - you couldn't bear to get up when the alarm first went off. You're running late now. If only you'd booked that Luton airport hotel... Lucky for you we have a good selection of cheap Luton airport hotels for you to choose from.
Related News
New Ramada Encore at Luton airport | Holiday Extras news
HolidayExtras.com is taking bookings for the sparkling-new Ramada Encore, which opens at Luton airport on July 23.
Luton Ibis special offer, £32 a night | Holiday Extras news
The Luton Ibis is now available for the special advance rate of £32 for a double room.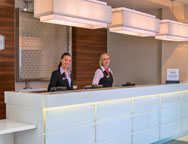 Great value Luton Hampton by Hilton | Holiday Extras news
Travellers booking their airport hotel and parking through Holiday Extras can now grab a great deal at the Hampton by Hilton Luton airport.
Luton hotels: Find your perfect fit
Flying with your family? Everything is hassle-free at the Holiday Inn Express Luton Airport. It's the closest hotel to the airport - just half a mile from the terminal - and all guests get a free breakfast. All double rooms have a double sofa bed as well as a double bed, plus satellite TV with CBeebies, and as well as a restaurant, there's a microwave where you can heat up baby food. If you are specifically looking for a family room please see our Luton airport hotels family rooms for more information.
Looking for luxury? The Garden Sleep System ™ beds at the Hilton Garden Inn Luton North contour round your body, cradling your neck, back and legs. Your room will also have a fridge, a 26-inch flatscreen TV, air conditioning, an ergonomic work chair, an iron and high-speed internet access.
On a budget? The Days Hotel Luton is friendly, clean, comfortable and just over two miles from the airport. You'll get an en suite room with a power shower, Sky TV and air conditioning. The restaurant's credit crunch menu has starters from £3.95 and main courses from £7.95 - and the rocky road chocolate brownies are out of this world. Another great value choice is the two-star Ibis Luton - it's within the airport grounds, and transfers to and from the terminal are included in the price. The hotel has a restaurant and a bar, which serves food and drink 24 hours a day, and you'll get satellite TV in your en-suite room. If you are looking for others ways to save a bit of extra money, you could always try our Luton undercover airport hotels, for more information see our dedicated page.
Travelling on business? The business centre at the Holiday Inn Luton South M1 J9 is open from 8am until 3pm and offers secretarial services and a courier service, plus a printer, a photocopier and a fax machine for guests to use. If you feel like a break from work, relax in the pool, the gym, the sauna and the steam room or book an appointment in the beauty salon.
Top tip
Book your Luton airport hotel early to get our best prices. On the whole, if you book earlier, you'll find our prices are lower - and you'll have a wider choice of hotels too. No need to worry about changing your mind - just add our cancellation waiver when you book. It costs just £2.49 and means you can cancel your booking up to 24 hours before the date of your stay and get a full refund.
On-airport hotels: These are within the airport grounds, so your journey to the terminal in the morning should be very quick. We have two on-airport hotels at Luton: the Ibis Luton and the Holiday Inn Express Luton Airport. The latter is the closest hotel to the terminal - it's just half a mile away, or three minutes on the shuttle bus. It's got great views of the runway - and don't worry, it's got excellent soundproofing too.
Off-airport hotels: These are outside the airport grounds, so tend to be less expensive than on-airport hotels. But they're still very close by - all but one of our off-airport hotels at Luton are within 10 miles of the terminal. The most popular of our Luton off-airport hotels is the Hilton Garden Inn Luton North, which is designed to combine Hilton luxury with a bargain price. It's just over three miles from the airport and has a restaurant, a fitness room and a 24-hour business centre. The Hemel Holiday Inn Express is located 13 miles away from the airport but is well priced and affords you some extra peace and quiet, as well as a complimentary breakfast, before your journey.
Top tip
Your Luton airport hotel will provide you with a good night's sleep in a comfortable bed ... but it can give you so much more than that. Our Luton airport hotel upgrades give you the chance to make your stay even more pleasurable - and often save money at the same time.
Luton airport hotels with parking: If you need airport parking while you're away, kill two birds with one stone and book one of our great-value Luton airport hotels with parking. This can turn out to be barely more expensive, or even cheaper, than booking parking alone. All our hotels in Luton offer room-with-parking packages, with parking at our fully secured Airparks car park just over four miles from the terminal. The Hilton Garden Inn Luton North and the Ramada Luton also offer you the option of parking at the hotel while you are away.
Room-only bookings: These are bookings of Luton airport hotels without parking. Did you know that if you're not taking your car to the airport, we can save you money on your travel there and back? We can arrange discounted rail or coach travel to and from the airport for you and your whole family - if you're going by train, up to two children under 16 can travel free.
Read the Luton airport hotels customer reviews our customers have given before you book. There's no better evidence of the quality of our service and our Luton airport hotels. We're extremely proud of the fact that 99.88% of our customers are happy with our service - and we strive every day to make that 100%. If we've not answered all your questions on this page, you might find the answer you're looking for on our Luton airport hotels FAQs page.
We can arrange transport for you to Luton airport
Even if you don't need to use airport parking we can still help you save money getting to the airport. Public transport can be expensive, especially if you are travelling with a family but we offer return rail and coach travel to and from Luton airport at discounted prices.
If you decide you would like to travel to the airport by train or coach, you will find we offer great deals for adults, children can travel for free* and your travelling times are not restricted. For more details see our Luton airport by rail and Luton airport by coach pages.
Top tip
It is always important to leave yourself plenty of time to get to the airport so you are not rushed off your feet when you get there. Take a look to see what is available at Luton airport in the way of facilities to keep you and the kids getting bored before you fly. Make sure to check our information on baggage allowance at Luton airport so that you don't have any problems when you reach the security gate.
*Discounts for children are changeable depending upon the route and train operator. Children cannot travel for free on routes via the Transpennine Express and will be charged half of the adult fare to travel.
For a list of related pages, please take a look at our Luton airport hotels sitemap.