Stansted Airport Parking
Compare 6 Stansted parking services
35300

reviews scored an average of for our

Stansted parking

Prices from:

£6.25

a day ,

£49.99

- 1 week ,

£85.99

- 2 weeks

**

FREE IF

- FREE airport parking
Save up to

45%

parking at Stansted
Surprises can be delightful - but not when you're sorting out your Stansted airport parking. That's one area where last-minute spontaneity is no fun at all - just very expensive. If you don't book your Stansted parking in advance, you could end up paying as much as £91 for a week's parking.
Book a space at one of our 3 Stansted airport car parks, however, and you can park for as little as £6.25 per day - only £49.99 for eight days. A saving which you could put towards far more enticing surprises.
Compare prices - STN parking
Car park
Options
Distance to airport
Customer reviews
Price for 8 days
Off Airport
On Airport
Meet and Greet
**Prices quoted are for the period starting 07/02/14 as of 08/12/13.
Customer Reviews
Official Long Stay (STN) Trouble free car parking at stansted
Mrs Witherington 25 May, 2013 (5 out of 5)
Official Long Stay SuperSaver (STN) I booked long term parking at stansted airport everything worked flawlessly very impressed would highly recommend.
Mr Pink 25 May, 2013 (5 out of 5)
Official Mid Stay Supersaver (STN) I only used HE for stansted car parking
Mrs James 22 May, 2013 (5 out of 5)
Official Mid-Stay (STN) I booked car parking at stansted airport Mid-Stay. The proceedures all worked very well and the driver of the shuttle coach up to the terminal was really friendly
Mr Lindley 31 Jan, 2013 (5 out of 5)
Official Long Stay SuperSaver (STN) When checking my stansted parking registraion prior
to departure the ref No. was not recognised by "the System".However this was very quickly resolved by your staff.This was immediately confirmed by the "Gatekeeper".
Mr Legge 19 Jul, 2012 (4 out of 5)
Official Long Stay SuperSaver (STN) I think I only booked stansted parking but it ran very smoothly and was reliable and a quick service. Relieved!
Mrs Elliott 13 Jun, 2012 (5 out of 5)
Official Mid-Stay (STN) Just booked stansted airport parking with you, all went very smoothly, thank you.
Mrs Percey 09 May, 2012 (5 out of 5)
Official Long Stay (STN) used stansted airport parking. its good, but too expensive.
Ms Busse 01 Mar, 2012 (5 out of 5)
Official Long Stay (STN) stansted parking as always hassle free
Mr Laws-Smith 14 Jun, 2011 (5 out of 5)
Official Mid-Stay (STN) stansted parking had its glitches
Mr Rawlings 19 Jul, 2010 (4 out of 5)
Official Long Stay (STN) Good service from Holiday extras, however stansted parking was a nightmare as usual! Forty minutes from getting on the bus to getting back to the car- longer than the flight from Amsterdam!
Mr Senior 04 Nov, 2009 (4 out of 5)
Official Long Stay (STN) It really couldn't have been easier . On arrival at stansted airport parking it was clearly signposted to direct you to your parking zone . As we parked the car we saw a bus pulling away and thought that we would have to wait awhile for another one but as we got out of the car and before we could cross the road to the bus stop another arrived . We experienced the same high level of service on our return , there was no queuing for keys it was just straight into our car and away . We found that using Long Stay was extremely stress free and we would not hesitate in using them again or recommending them .
06 Nov, 2006 (5 out of 5)
Value and choice at Stansted
HolidayExtras.com offers several cheap Stansted airport parking packages, including great-value Stansted airport Valet parking. The Stansted on-airport car parking (parking within the airport grounds) is the only Stansted car parking to have been approved by Essex Police. And apart from the airport itself, we're the only company which sells them. All of the car parking at Stansted we sell has been awarded the Park Mark, a national security award accredited by the Association of Chief Police Officers.
Compare parking at Stansted airport
Choose one of the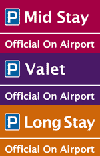 Want the cheapest parking at Stansted? Stansted Long Stay, an on-airport car park 15 minutes from the terminal, prices start from

£6.25

per day.
Want to be close to the terminal? Stansted Mid Stay is the closest long term car park to the terminal, which is just a five-minute transfer away. Prices start from

£6.25

per day.
Want the ultimate in convenience? With Stansted Official Valet Parking, your car will be collected from the terminal when you leave, parked for you in a secured on-airport car park, and brought to the short stay car park right next to the terminal when you return from holiday. Check out all of our Stansted valet parking options - prices start from

£6.25

per day.
Top tip
The gate price at Stansted airport is very expensive, sometimes as much as £9 per day. Never just turn up - always book if you want to save money. The earlier you book the cheaper it is, so look out for our Supersaver, Advance and Non-Flexible products. And don't forget, if you add our cancellation waiver for just 99p when you book, you can cancel for FREE as long as you give us at least 24 hours' notice.*
*Some bookings made at our special advance rates are on a non-cancellable, non-transferable and non-refundable basis.
Choose your Stansted airport car parking package
Stansted on-airport parking
Stansted Long Stay and Stansted Mid Stay are within the airport grounds and offer fully secured parking. Stansted Airport Mid Stay is the closest to the terminal. With both the Stansted mid and long stay car parks, transfers are included in the price and run 24 hours a day. Both car parks are manned 24 hours a day and are protected by CCTV, a fence, an entry barrier and lighting at night.
Stansted Meet and Greet parking
Drive straight to the terminal with a Stansted Meet and Greet parking service. You don't even need transfers when you book Stansted Official Valet Parking. Meet the driver at the terminal and they will park your car in a secured on-airport car park while you are away. When you return, you can collect your car from the Short Stay car park. It will be protected by CCTV, a security barrier, lighting at night and 24-hour security patrols.
Top tip
For more answers to your questions and information that is related to Stansted airport, please see our Stansted airport parking FAQs. To see all our information pages together, take a look at our Stansted parking sitemap. This page lists the car parks pages, customer reviews, map and directions pages in one place.
Upgrades to your Stansted car parking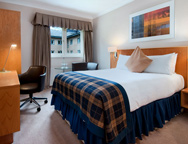 There are several different Stansted airport parking upgrades that we can offer you; the best upgrade we can offer has to be the option of combining your parking with an hotel stay. Stansted airport hotels with parking can transform your pre-holiday experience from a traffic-logged, stress-inducing time trial to a wonderfully relaxing, smooth ride into the beginning of your vacation. We strongly recommend you take a peek at our price quotes because they compare very well with the price you would pay just for parking.
If you have booked one of our Stansted airport park and ride services, but fancy that little bit extra, then why not upgrade to one of our Meet and Greet parking options that we have available. We currently offer one such service which means you can drive directly to the terminal, meet with the chauffeur driver who will take your car to the nearby secured car park while you check in. Then, when you return, your car will be brought back to the terminal ready for you to collect and drive home.
Stansted airport lounges offer another brilliant option which you can tag onto your booking once you've chosen your parking service. A lounge offers you a very welcome retreat where you can enjoy complementary drinks and magasines or relax in front of the TV while you wait to board your flight.
We have collected all our customer reviews of Stansted airport parking so you can have a browse through them and feel confident about the service you are booking. We quality check all the car parking services to make sure we're happy selling them to you, but you needn't just take our assurances; have a read what everybody else thought.