Luton Airport Parking
Up to 60% savings on 15 parking options
31943

reviews scored an average of for our

Luton parking

Prices from:

£3.00

a day ,

£23.99

- 1 week ,

£45.99

- 2 weeks

**

FREE IF

- FREE airport parking
Save up to

60%

parking at Luton airport
Forward planning isn't everyone's forté, but when it comes to your Luton airport parking, it's worth doing. To put it one way - if you don't book your Luton parking in advance, you could find yourself paying more than £10 per day. Compare and book one of our 7 Luton airport car parking services with Holiday Extras, however, and you can park from as little as £3.00 per day.
Compare prices - LTN parking
Car park
Options
Distance to airport
Customer reviews
Price for 8 days
Off Airport
On Airport
Meet and Greet
**Prices quoted are for the period starting 06/02/14 as of 07/12/13.
Customer Reviews
Short Term (LTN) I pre booked parking at luton airport and unfortunately was charged the daily rate on my return. However your staff sorted this out form very quickly and the money was reimbursed to my account within 24 hours. Thank you
Mrs Walker 29 May, 2013 (5 out of 5)
Long Term - Special offer (LTN) excellent value for money parking at luton airport easy quick shuttle service insurance cheapest and searched many
Mrs Gladman 24 May, 2013 (5 out of 5)
Short Term (LTN) Excellent short stay parking at luton airport - no hassle and good value
Mr Parrott 23 Apr, 2013 (5 out of 5)
Luton Long Term Parking - Non-flexible offer (LTN) Was very happy with our parking at luton airport long term car park, staff very friendly and helpful, shuttle bus to and from airport good, didn't have longer than 20 minutes to wait.
Mrs Strydom 15 Apr, 2013 (5 out of 5)
Mid-Term - Special offer (LTN) I used the mid-term parking at luton airport. I came away amazed at how simple and efficient it was.
Ms Baker 11 Feb, 2013 (5 out of 5)
Airport Carparkz at Luton - quicker transfer to and from the terminal than from the on-airport parking for half the price. My first choice for luton parking!
Martin 25 Nov, 2012 (5 out of 5)
Mid Term (LTN) Mid term parking luton airport
A very good service
Whitehouse 01 Nov, 2012 (5 out of 5)
Stress-Free Meet and Greet (LTN) Purchased Meet and greet car parking at luton airport. It was the easiest experience of arrival and departure at any London airport carparking ever. Highly recommend Holiday extras for a easy booking system and best prices for carparking.
Mrs Joyce 10 Oct, 2012 (5 out of 5)
Airparks Drop and Go (LTN) Used luton airport parking. Excellent set up and service. Will use again.
Mr Vandenreijen 24 Jul, 2012 (5 out of 5)
Airparks Drop and Go (LTN) Used luton airport parking. The service was very efficient
Mr Forsyth 05 Nov, 2011 (5 out of 5)
luton car parking: good service, no problems - just a little slow in the pick-up, otherwise would have been 10/10!
Mr Vanston 30 Oct, 2011 (5 out of 5)
luton airport parking - very smooth and the ticket worked on exit without having to use the intercom. Very helpful on arrival at gone midnight for a 3 hour drive home.
Mr Fraser 01 Jul, 2011 (5 out of 5)
Official On-Airport Short Term (Yellow) Parking (LTN) The service at luton airport parking was fantastic. No problems and very easy.
Mrs Crofts 30 Jul, 2010 (5 out of 5)
Mid stay car park at luton airport parking Isle numbers are now very difficult to see. Apart from that no complaints very helpful & curtious staff
Mr Brown 23 Apr, 2010 (5 out of 5)
Take a look at our full list of Luton airport car parking and let us provide you with quotes for each by adding your dates and clicking 'Search' on the right of this page.
Warning: Luton airport roadworks
There are currently roadworks on the M1 between junctions 6a and 12. We recommend that you check the Highways Agency website before you travel, and that you allow extra time for your journey in case there are traffic jams because of the roadworks.
Where to park at Luton airport
Holiday Extras offers a variety of off-airport parking packages at Luton, as well as Meet and Greet packages too. Most of our Luton airport car parks have been awarded the Park Mark, a national security award accredited by the Association of Chief Police Officers.
Luton parking options
Choose one of the

Want the cheapest option? Airparks Luton is an off-airport car park just nine minutes from the terminal. You'll get great value parking combined with a great service. Why not have your car brought to the terminal when you return from holiday with our Airparks Return Greet package?
Want the closest car park to the terminal? Luton Carparkz is our closest park and ride car park to the terminal. Simply drive to the car park, and your car will be parked for you while you board the transfer bus.
Want the quickest getaway? Have your car collected from the terminal when you leave and brought back when you return. Book one of our Meet and Greet packages, and you'll get just that. We've got Swift Meet and Greet Luton, Luton airport Meet and Greet, Stress-free Meet and Greet and Carparkz Meet and Greet Luton.
Choose your Luton airport parking package
Luton off-airport parking
Airparks Luton is our best-value car park at Luton airport. It's nine minutes from the terminal on the transfer bus, which runs round the clock every 20 minutes. The car park is patrolled 24 hours a day and has CCTV, floodlighting and a fence.
Airparks Luton Return Greet is a one-way Meet and Greet service. Airparks will bring your car to the terminal when you return from holiday, so you don't have to wait for the transfer bus - you can head home straightaway.
Meet and Greet parking
Swift Meet and Greet Luton is one of our Luton Meet and Greet parking package. Your car is collected from the terminal when you set off on holiday, parked for you in a secured car park, and brought back to the terminal when you return.
Top tip
If you haven't found any of the answer that you are looking for thus far, please take a lot at our Luton airport parking FAQ's page. Alternatively, you might prefer to browse our information pages on our Luton airport parking sitemap. The sitemap lists all our car park information pages with the reviews and directions pages together.
Upgrade your Luton airport parking booking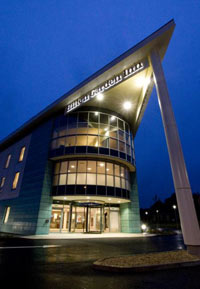 Holiday Extras offers a range of Luton airport parking upgrades to help your holiday slide into action with the minimum of hassle and at minimum cost. If you have booked the standard Luton airport park and ride package, we strongly recommend you take a look at our quotes for Luton airport hotels with parking. If you have to negotiate unpredictable traffic on the day of your flight, or you have a nasty flight time, an airport hotel can feel like a blessing. The price of a combined package often surprises our customers because we have some tremendous deals with parking either at the hotel or at a nearby secured car park. It's nice and easy to book and is a lovely start to a holiday for one great price.
Once you have selected your parking at Luton airport we show you the choice of Luton airport lounges that you can tag onto your booking. Like a hotel, a lounge at Luton airport can make a wonderful start to your holiday. Rather than enduring the crowds and whistling away your wait after check-in, you can put your feet up in the lounge with a complimentary drink and newspaper or watch the TV.
While making your booking you will also have the opportunity to save a few more pounds with our insurance deals and the FairFX currency card. Have a read of the details presented to you and, if you haven't taken care of this part of your holiday yet, just add it to your booking and let us do the rest.
Read our complete list of Luton airport parking reviews, a testament to the quality of our service and our Luton airport car parks. We're proud to say that 99.88 per cent of our customers are happy with our service - though of course, we're still striving to hit that 100 per cent goal.