Manchester Servisair Lounge Terminal 1
Watch TV in comfort while you wait
The Bollin Servisair is an airport lounge designed to offer the perfect solution for all the hustle and bustle of a major international airport. Generously equipped with comfortable seating areas, bars and TV screens, the Bollin Servisair is the departure lounge for passengers flying from Terminal 1 and now benefits from free WiFi facilities. The lounge allows children making it ideal for families. Children are charged at the same price as an adult entry.
Reasons to book
• The Bollin Servisair Lounge offers a calm oasis away from the noise of Manchester aiport
• Great selection of complimentary snacks and beverages available
• The ideal departure lounge for passengers flying from Terminal 1
• Leisure and business facilities to keep you busy and entertained for three hours before your flight
Lounge facilities
The Bollin Servisair Lounge (Terminal 1) features Complementary snacks, A range of beverages, Widescreen televisions, up-to-the-minute flight displays, Internet access, Disabled access.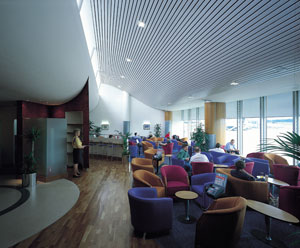 • Children allowed
• Disabled access
• Flight announcements
• Free drinks
• Free snacks
• Internet
• Phone
• Fax
• TV
• Wifi
Opening times
4am
8pm
Terminal
1
Children permitted
Children of all ages are accepted into the lounge. The lounge requests responsible and sensible behaviour.
Dress code
Lounges have a smart casual dress code (no baseball caps, shorts or football shirts) and expect reasonable behaviour from all guests. Lounge Staff reserve the right to refuse admission.
Search now for prices and availability...
Food and drink
To help you relax and get your holiday started before you fly the Bollin Servisair lounge offers complimentary snacks, coffee, tea, soft and alcoholic drinks. There is a charge for champagne.
Entertainment facilities
There's plenty to keep you entertained in this lounge including widescreen televisions, newspapers and magazines, up-to-the-minute flight displays, free Wi-Fi internet access, complimentary drinks and snacks and disabled access.
Disabled facilities
This lounge is accessible for disabled guests and wheelchair users. Please give lounge staff notice prior to your arrival whenever possible.
Business facilities
If you're flying out of Manchester on a business trip, the Bollin Servisair offers plenty of facilities to help you make the most of your time on the ground, with free Wi-Fi, phone and fax services.
Check out other pages related to Bollin Servisair Lounge (Terminal 1)