Hilton Birmingham Metropole
Book the Hilton Birmingham Airport
339

Hilton Birmingham Metropole

ratings have an average of
Terminal : All terminals

Star Rating :

Restaurant : Yes
Disabled Facilities : Yes
Swimming Pool : Yes
Treat yourself to Birmingham airport's most opulent hotel. Whether you're working out that tension at a free aqua aerobics class or playing gourmande in any of the hotel's three classy restaurants, you'll find it worth every penny. Why while away the hours before your flight when they can fly by while you're having fun at the hedonistic Hilton?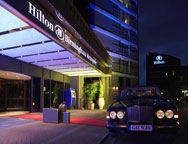 Reasons to book
• Park at the hotel where your car will stay until you return.
• You won't have to pay a penny to get to the airport on the half-hourly transfer bus.
• Fancy a cornucopian buffet, a la carte dining with a view, or just a quick snack? One of the hotel's three restaurants will suit you to a tee.
• A free aqua aerobics class in the hotel's huge pool is just the start of the spa facilities on offer.
Rooms
The rooms at the Hilton Hotel Birmingham airport have excellent facilities including colour TV with in-house movies, telephone, trouser press, hairdryer and tea/coffee making facilities.
Room service is available. Continental breakfasts are available in the rooms at any time.
Hotel facilities
The Hilton Birmingham Metropole features The Primavera Italian restaurant, the Boulevard Carvery, two bars and excellent leisure facilities.
• Restaurant
• Bar
• Leisure facilities
• Swimming pool
• Room service
• Internet access
• Conference facilities
Dining
Classy, chic and comfortable - that'll be the Boulevard Restaurant. Pull out your chair and take your seat in this open and airy restaurant. The wide variety of buffet dishes change quite often and will blow you away - whether you're a food connoisseur or a fussy eater you're sure to find something you'll love. Lunch is served from 12.30pm to 2pm every day. Make sure you come with your decision making head on - you'll need it. Choose a starter, main and dessert. You can help yourself to seafood, salads, main dishes or roasts, desserts and biscuits and cheese to name a few.
If you thought choosing your lunch from the large selection of buffet dishes was difficult, dinner will test you even more. Feast on Mediterranean prawns and shellfish together with fresh crisp salad and dressings to start. Main dishes could be gnocchi with pesto cream sauce, vegetable chow mein in soy and chilli sauce or roast turkey, all served with a choice of buttered sprouts, broccoli florets with almonds and creamed mash potato with chives. For dessert simply choose from the ever changing daily display. These are just a few dishes - we could name all of them but we'd be here a while.
Dinner is served from 7pm to 10pm every evening,
Did you know you can add dinner to your overnight stay when booking with Holiday Extras? Simply select the dinner option from the upgrades page.
Venture to Miller's gastropub and choose a drink from the cocktail menu. Toast your holiday in the conservatory area of the Hilton Birmingham Metropole hotel, and if you're feeling hungry between 6pm and 10 pm you'll be able to grab something to eat. How does prawn cocktail with jalapeno jelly sound? Or artichoke and creamed leek tortilla wraps with ratatouille might be more to your liking.
Don't fancy an early night, or can't get to sleep because you're too excited about your holiday? No problem - the Lounge Bar is open 24 hours a day. Chill out, enjoy a few drinks, watch some TV or chat amongst yourselves in a relaxed environment. The lounge menu is available throughout the day, and a few items are even served 24 hours a day. Why not sample the Hilton Classic Club sandwich or the Mexican style nacho plate? For any hot drink lovers out there, the Costa Coffee selection will be your cup of tea.
If you're travelling with your children, you might find it reassuring to know that Hilton hotels are working with child nutrition expert Annabel Karmel and have created a new kids' menu.
Check-in
Earliest check-in will vary on different dates, guests should confirm requirements with hotel once their booking is made. The latest check-out is at 11am.
Not found what you're looking for? we have more pages about the Hilton Birmingham Metropole or if you wish to see what other hotels we offer at Birmingham airport then please choose from the following dropdown:
Search now for prices and availability...
Hilton Birmingham Metropole

Address

National Exhibition Centre Birmingham,
B40 1PP.

Longitude

-1.71520


Latitude

52.45080