Novotel Birmingham Airport
Book Now with Holiday Extras
547

Novotel Birmingham Airport

ratings have an average of
Terminal : All terminals

Star Rating :

Restaurant : Yes
Disabled Facilities : Yes
A stay at the Novotel Birmingham airport will provide you with an evening of relaxation and comfort right next to the terminal. There's no need for hours of driving to the airport and early morning transfers, the hotel couldn't be any closer to the airport. This is the closest hotel to the terminal out of our Birmingham airport hotels. Why not make the most of your stay and enjoy a meal in the Elements restaurant?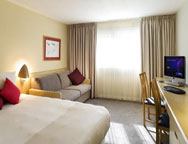 Reasons to book
• No need for transfers to the airport, the hotel is next to the terminal.
• 24 hour room service and excellent facilities.
• Eat at the new Elements Restaurant.
• Fantastic secured parking with Airparks.
Rooms
Rooms at the Novotel Birmingham airport have an in-house entertainment system comprising of a 26" flat-screen TV, pay movies, music & radio, satellite, broadband, and keyboard. All rooms have excellent soundproofing, a double bed and sofa bed.
24 hour room service with a limited menu available.
Hotel facilities
The Novotel Birmingham Airport features the Elements bar and restaurant.
• Restaurant
• Bar
• Leisure facilities
• Room service
• Internet access
• Conference facilities
Dining
Serving a wide range of food, including vegetarian options, the brand new Elements restaurant will have something on its a la carte menu that everyone is guaranteed to enjoy. For a round the clock drink and light bite then guests are welcome to visit the Elements Bar.
Check-in
Earliest check-in is at 14:00, latest check-out is at 12:00.
Not found what you're looking for? we have more pages about the Novotel Birmingham Airport or if you wish to see what other hotels we offer at Birmingham airport then please choose from the following dropdown:
Search now for prices and availability...
Novotel Birmingham Airport

Address

Birmingham Airport
B26 3QL.

Longitude

-1.73170


Latitude

52.45280