Airparks Meet & Greet Gatwick Parking
Low Cost Premier Service
1199

Gatwick Airparks Meet and Greet

ratings have an average of
Prices from:

£10.50

a day

,

£83.99

- 1 week

Terminal : All terminals
Transfer time : No transfers required
Distance to airport : Met at the terminal
Park Mark Award : Yes
Disabled Facilities : Yes
If you thought Airparks Gatwick Park and Ride was great, you'll think Meet and Greet is amazing. You don't even have to park your car with this service - just drive straight to the terminal and you'll be met by one of Airparks' friendly drivers. And the good thing is your car will still benefit from everything that our customers love about our most popular car park - because it'll be stored there while you're away. When you return, you'll step outside the terminal to find your car ready and waiting - and we're pretty sure that's why 88 per cent of our customers said they'd book again.
Reasons to book Gatwick Airparks Meet and Greet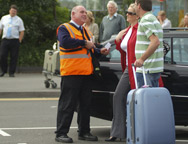 • Leave your car at the terminal door. Airparks will do the parking for you.
• All drivers are friendly, helpful and fully insured.
• With Airparks your car is kept in a secured car park with police approved security.
• When you return your car will be brought to the terminal for you to collect it.
Security at Gatwick Airparks Meet and Greet
The compound where your car is stored has 24-hour security with CCTV, regular patrols and security barriers.

This car park has been awarded the Park Mark for safer parking. The Park Mark means that you are parking in an area that has been vetted by the police to make sure that the site has had measures put in place to create a safe environment. Park Mark awarded parking areas are run by responsible operators who are concerned with your safety and the safety of your vehicle.
• Park Mark Award for safer parking
• Security barrier for restricted access
• CCTV coverage of the car park
• Full security fencing of the perimeter
• Security lighting over the facility
• Regular staff security patrols
Gatwick Airparks Meet and Greet Transfers
No transfers will be required as you are met at both ends of your journey at your airport terminal.
Transfer hours: 24 hours a day.
Disabled facilities: The service is suitable for disabled passengers, but note that adapted vehicles cannot be accepted for safety reasons.
Arrival and Departure Procedures
Arrival: Call 01293 842903 about 20 minutes before you arrive so that Airparks can dispatch their driver to meet you.

Make sure you give all your details to us on booking. If you have not, you will need to call Airparks at least 24 hours before you arrive to give them the information.
Airparks will be expecting you at the arrival time you listed on your booking. Your driver will have a photo ID and be wearing an Airparks uniform. An inspection will be carried out on your vehicle and photographs will be taken of any existing damage so there won't be any concerns on your return. Please make sure that you remove any key rings from your car keys.
Your driver will park your car for you while you catch your flight.
Departure: Call 01293 842903 when you've passed through security and quote your booking reference. You will be given instructions on where to meet your driver.
If you return earlier than planned, please contact the car park to ensure your car is ready for collection.
Gatwick Airparks Meet and Greet

Address

South Terminal:
Gatwick Airport
West Sussex
RH6 0RN

North Terminal:
Gatwick Airport
West Sussex
RH6 0PJ

Your car will be stored at:
Airparks Gatwick,
Lowfield Heath Road,
Crawley
RH11 0QB

Longitude -0.17678
Latitude 51.15972