Summer Special Parking Gatwick South
Guaranteed Savings
4707

Gatwick Summer Special

ratings have an average of
Terminal : North
Transfer time : 5 mins
Distance to airport : On airport
Park Mark Award : Yes
Disabled Facilities : Yes
Summer Special Parking North is an on-airport car park located close to Gatwick's North terminal. The car park is easy to find, convenient and great value for money. It's ideal for anyone who wants their Gatwick parking free of hassle.
Reasons to book Gatwick Summer Special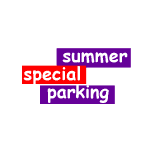 • It\'s not just for the summer, but this popular car park is certainly special. You won\'t even have to park your own car, and it\'s just five minutes from the North Terminal.
• Simple to find and great value for money, the Summer Special car park is ideal for both business and leisure customers.
• You are delivered direct to the upper forecourt ready for your departure and picked up again from the upper forecourt on your arrival. This ensures easy access to check-in on departure and swift access to transfers on your return.
• Award winning secured airport parking with CCTV, security fencing, floodlighting and regular site patrols by staff and Sussex police.
Security at Gatwick Summer Special
Holders of the Secured Car Parks Award, initiated by the Association of Chief Police Officers, protected by security fencing, floodlights, remote cameras and regular patrols by staff and Sussex Police. This car park has been awarded the Park Mark for safer parking. The Park Mark means that you are parking in an area that has been vetted by the police to make sure that the site has had measures put in place to create a safe environment. Park Mark awarded parking areas are run by responsible operators who are concerned with your safety and the safety of your vehicle.
• Park Mark Award for safer parking
• CCTV coverage of the car park
• Full security fencing of the perimeter
• Security lighting over the facility
• Regular staff security patrols
Gatwick Summer Special Transfers
Summer Special is five minutes from the North terminal on the transfer bus. Transfers run 24 hours a day at varying intervals and are included in the price.
Transfer hours: 24 hours a day.
Disabled facilities: Arrangements can be made for disabled customers. Once you have booked call the car park to arrange.
Arrival and Departure Procedures
Arrival: Pull up to the barrier and it will automatically scan your registration and lift to let you in. Park in one of the arrival lanes and report to reception. Take and fill in a key label, then give your keys and the label to the receptionist. You will be given a receipt, which you should keep, then catch the transfer bus to the terminal.
Departure: Follow signs from arrivals for Car Parks out of the terminal and you will find the bus stop for Summer Special parking on your left. When you get back to the car park, return to the reception and hand in your receipt. You will be given back your keys and told which space your car is parked in. Drive to the exit barrier, which will read your number plate and let you out.
Gatwick Summer Special

Address

Larkins Road,
Gatwick,
West Sussex,
RH6 0RN

Longitude -0.19170
Latitude 51.15720