Britannia Country House Manchester Airport
Palatine Road, Didsbury, Manchester, M20 2WG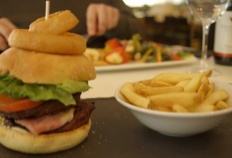 £68
.00*
including 8 days parking
4.9
miles
from the airport
Save More Online
Set in its own grounds, next to an impressive 18 hole golf course, the recently refurbished Britannia Country House hotel is only five miles from Manchester airport. What's more, the hotel also offers great parking packages for up to eight or 15 days - giving you even more added value. If you're searching Manchester airport hotels looking for convenience and value all under one roof, this hotel could be an ideal option.
See more Britannia Country House customer reviews
Overall rating: 80%by 248 guests
Value for money with plenty of food options and things to do during your stay.[/b
Getting to the airport:
To get to the airport, there is a [b]transfer from the hotel
. Service runs 24 hours a day, transfers
every 45 minutes
and tickets
£6 per person
for a return. It takes around 20 minutes.
Alternatively, a taxi to the airport will cost around £12 - £15 each way. This service also runs 24 hours a day.
For more information on getting to the airport, click on the Transfers tab.
Parking:
The hotel offers free, overnight parking at the hotel if you need it. This package doesn't include parking while you're away.
For a hotel [b]and parking for the whole of your holiday, search for an airport hotel with parking package instead.
Hotel location:
The Britannia Country House hotel is off Palatine road, between Withington and Northenden golf clubs, within 5 miles of Manchester airport.
Travelling by train? The nearest station is Burnage, a taxi from there to the hotel will cost around £10 - £12.
Driving directions and a postcode for satnavs will be on your confirmation email.
Check in from 2pm. Check out by 11am.
Rooms:
Guests say rooms are warm and comfortable, although a little on the small side. Upgrade to an executive room for £10, offering a more spacious room, free wifi updated decor and some even have a spa bath.
Rooms include:
Hairdryer
Tea and coffee
Free wifi (currently executive rooms only)
En suite bathroom
TV
Telephone
Room service (6am - 10:45pm)
Wifi:
It's free to use in the lobby and public areas - you'll only be able to access it in your room if it's an executive room.
The wifi is average speed, fast enough for checking emails and browsing the web.
Accessibility:
Hotel accessibility includes:
10 designated parking spaces
3 accessible bedrooms
Level access to reception
Ramp to the side doors
Bars and restaurants on the ground floor
Accessible routes to all leisure facilities
Evacuation chairs
Braille
Induction loop
Guide dogs welcome
Accessible rooms include:
Grab rails
Emergency pull cords
Telephone in bathroom
If you would like to request an accessible room please call before booking.
Restaurants:
The hotel has 2 restaurants to choose from:
Jenny's restaurant serves a variety of dishes from an a-la-carte menu, specialising mostly in traditional food, like burger, chips and salad. It usually costs around £14 per person for a 2-course meal, but it'll only cost £10 each with the dinner add-on through Holiday Extras.
There isn't a kids' menu available, but the staff are more than happy to prepare something if you ask! Guests say the food is generally good value for money and the drinks are reasonably priced.
Open: 6pm - 9pm
The Overstuffed Pizzeria specialises in Italian style food, such as pizza and pasta, but they also offer more traditional options, like steaks, salads and hot sandwiches. The average price is usually around £30 for 2 people and alcoholic drinks start at around £3.40. Guests say that the food and service there is good, with pizza usually being the top pick!
Open: 5pm - 11pm
Both restaurants offer vegetarian, vegan and gluten-free options. They recommend you contact them before you stay to discuss this with them.
Bars:
There are 3 bars at the Britannia Country House:
Jenny's bar is in the restaurant and offers beers, wines and spirits. They also offer light meals and snacks.
Open: 5pm - midnight
Java lounge cafe and bar serves hot and cold drinks throughout the day. They also serve cakes, sandwiches, toasties and paninis.
The resident's bar is in the hotel's main area. They serve hot and cold drinks and light snacks.
Open 2pm - late weekdays and from 12pm - late weekends
Breakfast:
A continental and full English buffet is served in Jenny's restaurant. Breakfast costs up to £11.50 per person through the hotel directly, but you can save up to £4 per person when you book the breakfast add-on with Holiday Extras.
Guests say that the options are fairly typical and generally good quality, but we'd recommend getting there early for food fresh from the kitchen.
Breakfast is served from 6.30am - 9.30am weekdays and from 6.30am - 10am on weekends.
Things to do:
Spindles health and leisure club on-site, including:
Gym

Heated pool

Sauna

Steam room
Spa pool
Aerobics classes
Hair and beauty salon

Entry for guests is £5 per person with salon treatments at extra cost.

Towel hire £1 per person.

Open 6:30am - 10pm weekdays and 7.30am - 9pm weekends.
Britannia Country House address
Palatine Road,
Didsbury,
Manchester,
M20 2WG
Britannia Country House Additional Information
Star rating
Address
Palatine Road,
Didsbury,
Manchester,
M20 2WG
Disabled facilities
Disabled rooms are available on request. If you would like to request one of these please call us on 0800 093 5478.
Wi-Fi
Restaurant
Swimming pool
En-suite bathroom
Kettle
Phone in room
TV
Top