There are so many great reasons to get married abroad: glorious weather, romantic scenery, a cast-iron excuse not to invite hundreds of distant relatives - and on a more practical note, the cash benefits of combining your wedding and honeymoon into one single trip-of-a-lifetime. Have we convinced you that you want to elope yet? If so, you're going to have some planning to do, so we've rounded up some great websites to help you organise a fantastic wedding abroad.
Best websites for planning weddings abroad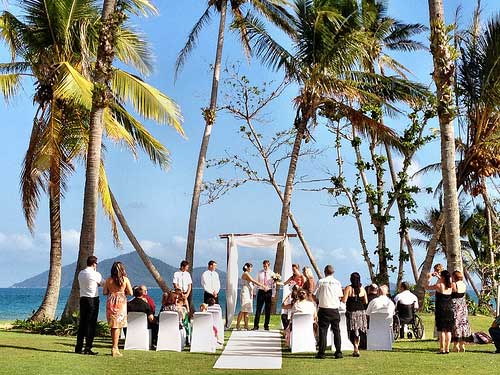 Image: Paul Toogood at www.castaways.com.au under Creative Commons licence.
The full package: tailored wedding breaks
Many of the UK's biggest tour operators are geared up to help couples plan the perfect offshore wedding, so you might want to start by looking at what's available via Thomson, First Choice or Kuoni, if only to get an idea of cost and possible destinations before you fall in love with any particular location. These package sites have the advantage of letting you plan everything in one hit, from flights for you and your family and friends, to the venue where you'll actually say your vows.
Perfect Weddings Abroad is another site for couples looking to book a tailor-made wedding holiday, and this site is also great fodder for your destination research: prepare to be dazzled by beautiful images of the world's most romantic locations, including the beaches of Mexico, Cypress, Jamaica and Cancun. All of these and more are served by this web-based business, which also helpfully categorises its wedding options into popular wedding "types" such as fly and flop, quick and easy, run and hide and many more. You can see the full list here.
Researching your wedding abroad
Now you've got an idea of the type of wedding you want and a shortlist of destinations in mind, it's time to start consulting more impartial sites and forums to explore every aspect of your upcoming nuptials.
Image: Chauromano under Creative Commons licence.
As you start to research the finer details of your wedding, you might wish to consult one of the many specialist wedding websites such as Confetti and Hitched, both of which have whole sections devoted to getting married abroad. We particularly like Confetti's list of pros and cons of a wedding abroad, which might alert you to some aspects of holding your ceremony outside the UK you may not have considered in your initial state of pre-wedding excitement. For example, if you're planning on an intimate wedding for just you and your significant other, are you prepared to bring in a stranger off the street to act as witness?
Wedding Ideas Mag is also a great online resource, with plenty of testimonials from real couples who chose to get married abroad, tips on locations in several popular destinations such as New York and Italy, as well as the latest bridal fashion guides to destination dresses, depending on your country of choice and its climate. If you're wanting to chat to other couples with similar plans, the forums at You and Your Wedding are always busy and brimming with ideas.
It is often claimed that getting married abroad can be cheaper than staying in the UK, so if this is a consideration for you, MoneySavingExpert's Forums are a great place to discuss great deals, while TripAdvisor has regular discussions on popular wedding destinations.
Vegas weddings
Viva Las Vegas wedding chapel: Damian Montero under Creative Commons licence.
Las Vegas has long been the destination of choice for many couples who want a wedding that's fuss-free, fun and fast - and it's still a popular option for those who'd prefer to avoid the pomp and ceremony of a classic British wedding. If you're tempted by the idea of meeting Elvis in the Chapel Of Love and are curious about the logistics, there are several sites devoted to this one particular goal. Have a browse here for a wealth of information on tying the knot in Sin City from a Brit's perspective.
Getting married abroad: the legal stuff
Finally, don't forget that you'll have some extra factors to consider on a more practical level when planning a wedding abroad - and these can vary dramatically depending on your destination of choice.
Be sure to study YouGov's advice on getting married abroad, which covers issues such as necessary documentation (and whether or not you'll need to have it translated), legal advice and where to get it, as well as each country's stance on same-sex marriages. Thomson Holidays also provides a useful at-a-glance chart detailing the legal requirements for weddings in various different countries.
Are you planning a wedding abroad or have you already tied the knot in another country? Tell us about it below!
If you enjoyed this post like us on Facebook and follow us on Twitter or subscribe to our YouTube channel.
Written by Abi Silvester, a London-based writer and editor with a passion for great food, fine wine, coffee and cats; always planning my next trip! Follow her on Twitter.
Top