Cover image by Pierce Martin under Creative Commons license.
Revved up and ready to hit the road? We've rounded up six of the world's best motorcycle routes to inspire you for your next biking adventure.
Colorado Backcountry Discovery Route
For some motorcycle enthusiasts, there's just no fun in riding on ordinary roads, so if dirt tracks are for you, the Colorado Backcountry Discovery Route is a dream come true. Leading from New Mexico to Wyoming, it's 675 miles of pure off-road action, passing through the entire length of Colorado on some of the USA's most rugged unpaved roads. You'll hit up some breathtaking scenery too, from the height of the state's majestic mountain ranges to the depths of its historic mines.
Stelvio Pass, Northern Italy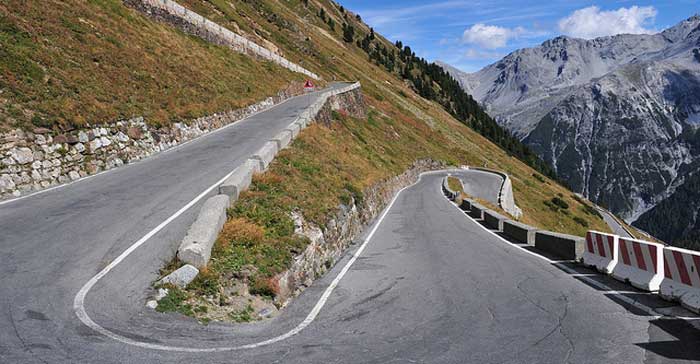 Image by Sunny under Creative Commons license.
With spectacular scenery at every turn and enough hairpin bends to make even the most intrepid traveller's head spin, Italy's Stelvio Pass is a thrilling ride for any motorist - but bikers get the best deal, being better able to navigate the tight corners and narrow roads. At 2,757 meters it's the highest paved mountain pass in the whole of the Alps, so you'll want to plan in plenty of time for pit-stops and photo ops en route.
Silk Road, China
Image by Maria Ly under Creative Commons license.
The ancient Silk Road winds its way from Europe to Asia, and still serves as one of the most important East-West trade routes today. There's arguably no better way to explore every inch of this ancient thoroughfare than by motorbike, but this is an epic excursion by any mode of transport:  if you're up for the full 2000 km trek, you might want to buddy up with some other bikers or consider booking a specialist package.
Moto Explorers is one firm that offers self-ride packages for bikers wanting to make the journey from Turkey to China by road. As part of the deal you'll benefit from pre-booked lodgings on route, GPS coordinates to keep you on track, and even help with visas and other paperwork issues from reps based in each country.
Che Guevara's route
Bikers in Buenos Aires by Juanedc under Creative Commons license.
Che Guevara's motorcycle diaries documented an important chapter in South American history, as the epic 9-month journey shaped Guevara's views on Latin America as a single entity rather than a collection of nations. Modern day motorcyclists don't have to saddle up for the entire 18.8 thousand kilometre route from San Francisco to Buenos Aires, but you can get a taste of this historic trail by exploring key sections - and you'll get to enjoy some of the best stateside scenery en route.
There are some intrepid bikers who attempt the full stretch, however: to get inspired, check out Texan motorcycle enthusiast Alex Chacon's amazing 503-day solo adventure across the Americas. His incredible photos might just persuade you to find sixteen months in your schedule to attempt the same trip!
Furka Pass, Switzerland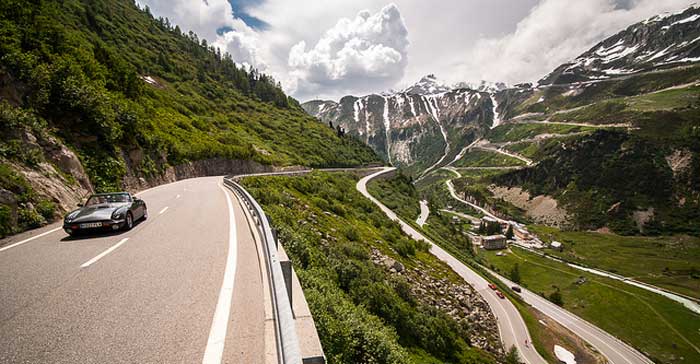 Image by Maffe under Creative Commons license.
With its sheer drops and snaking, criss-cross roads, this is another mountain pass that's not for the faint-hearted. Bikers have almost exclusive access to the highest points of Furka's crazy road system, as a narrow tunnel make it difficult for larger vehicles to pass through to the summit, which stands at a lofty 2,100 metres. Watch out for ice, particularly in winter when regular snowfall adds an extra element of risk.
The Cat-and-Fiddle run, UK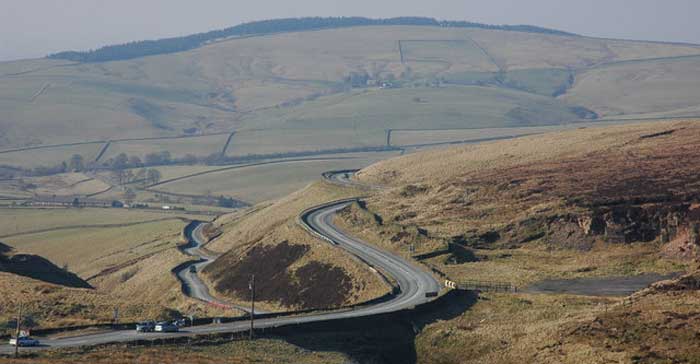 Image by Phillip Halling under Creative Commons license.
The route from Buxton to Macclesfield has long been considered a 'rite of passage' for British bikers, thanks to its notorious twists and turns, and if you take to this stretch of road today you'll almost certainly be joined by many more motorcycle enthusiasts making the same petrolhead pilgrimage. Bikers generally congregate at the Cat-and-Fiddle pub for coffee, before taking to the road en masse. You'll need to have your wits about you, however: this stretch has been voted Britain's most dangerous road by the RAC.
If you enjoyed this post like us on Facebook and follow us on Twitter or subscribe to our YouTube channel.
Written by Abi Silvester, a London-based writer and editor with a passion for great food, fine wine, coffee and cats; always planning my next trip! Follow her on Twitter.
Top