We're enormously lucky here in the UK to have France as one of our nearest neighbours. Historical rivalries aside, the country is an enormously diverse and interesting place, making it ideal for holidaymakers of all types. Here are just a few of the top visitor attractions that France has to offer.
Abbey de Sénanque, Provence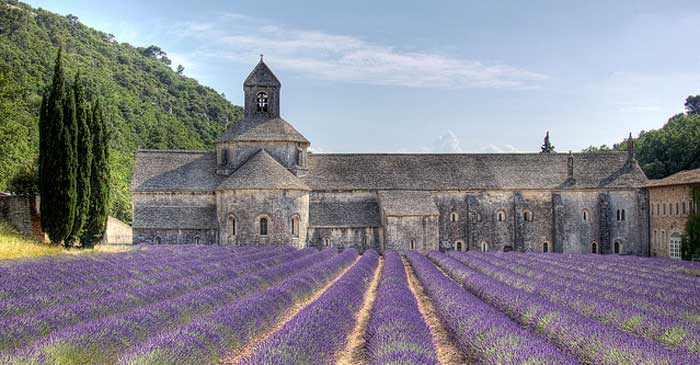 Image by DeCar66 under Creative Commons license.
Close your eyes and think of Provence. What do you see? If fields full of lush purple lavender feature heavily in your daydream, you might want to visit the Abbey de Sénanque, where such fantasies are made a reality. Cistercian monks have been growing the fragrant plant here since the 12th Century, and there's simply no better spot to enjoy it.
Mont Saint Michel, Normandy
Image by Gilad Rom under Creative Commons license.
Rising majestically from its coastal base, Mont Saint-Michel in Normandy is the biggest tourist attraction in France outside of Paris, and it's one of the most well-preserved Medieval cities anywhere in the world. Built in the 11th Century with an Abbey and church in the  Romanesque style, it sits on on a tiny island roughly 1km from the country's north-western coast. Mont Saint-Michel has a quite other-worldly ambience about it, and is a must-see for anyone visiting Normandy.
Futuroscope, Poitiers
Image by Flavio Ensiki under Creative Commons license.
If all this ancient history isn't your thing, why not look to the future? Poitier's Futuroscope theme park is all about looking forward, and within its shiny, alien-looking buildings you'll find a world of cutting-edge technology, forward-looking installations and futuristic imaginings - as well as some thrilling, world class rides. The park's Hubble Telescope 3D show is particularly popular with visitors, and features the real-life space rescue mission that inspired the film 'Gravity'. Education and fun collide at Futuroscope, making it an ideal day out for the whole family.
Carcassonne, Languedoc-Roussillon
Image by Karoly Lorntey under Creative Commons license.
A fully-fledged Medieval citadel, complete with gargoyles, turrets and cobblestones, Carcassonne is an extraordinary place to visit. Beautifully preserved and offering spectacular views across the countryside, this old Occitan fortified town offers visitors a chance to step back in time and experience around 2,500 years of history, starting in Roman times. The Cité de Carcassonne has inspired many novelists, poets and film directors, and was used as a location in Robin Hood, Prince of Thieves.
Roman Amphitheatre at Nimes, Languedoc-Roussillon
Image by Katie under Creative Commons license.
Sometimes referred to as the 'French Rome', Nimes was one of the most important cities in Roman Gaul, and much of its classical heritage remains. Of particular interest is the impressive amphitheatre, which was built in about 70 BC. So well-preserved is this ancient arena, that it was used for many of the fighting scenes in 'Gladiator', and visitors can walk at their leisure around the site. Modern Nimes is a small and compact city with many car-free zones, making it an ideal place to spend a relaxing few hours.
Palace of Versailles, Île-de-France
Image by Stefano Brivio under Creative Commons license.
Probably the most splendid Chateau of them all, the Palace of Versailles is a must-see if you like your attractions ornate, spectacular and steeped in history. In pre-revolution times the Palace was the seat of French political power, from Louis XIV's days right up until the last days of the French monarchy. Unlike its inhabitants, the Palace came through the events virtually unscathed, and today you can visit its opulent Hall of Mirrors, Salon of Apollo and of course the immaculately planned and well-tended gardens. Versailles is situated 20 kms South of Paris, making it an easy day trip from the French capital.
Pont du Gard
Image by Michael Gwyther Jones under Creative Commons license.
Another relic from the days of Roman rule in France, the Pont du Gard is an astonishing feat of ancient engineering. Thought to have been constructed in around 40-60 AD, it served as an aquaduct and foot bridge, carrying around 44,000,000 gallons of water to the citizens of Nimes, who needed the supply for their sophisticated fountains and baths, as well as for drinking! Now a UNESCO heritage site, it's a fascinating place to visit.
If you enjoyed this post like us on Facebook and follow us on Twitter or subscribe to our YouTube channel.
Written by Abi Silvester, a London-based writer and editor with a passion for great food, fine wine, coffee and cats; always planning my next trip! Follow her on Twitter.
Top