Galeries Lafayette on Boulevard Haussmann: a must-see Parisian shopping destination. Image: Patrick Janicek under Creative Commons licence.
Hundreds of Holiday Extras customers will be hitting the French capital in the next month or so, and shopping will be a top priority for many. Whether you're looking for gift shops, quirky flea markets, exclusive boutiques or international department stores, Paris has something for every kind of shopper. We take a look at what this glamorous city has to offer those in search of a bit of retail therapy around Christmas and into the New Year, in our Paris shopping guide below.
Paris shopping for travellers
Street markets
The French are famously fabulous at markets, so Paris is the perfect destination if you enjoy browsing stalls crammed with soaps, clothing, fine cheeses, fresh produce and more.
There's a particular focus on markets around this time of year, with the city's biggest Christmas market held on the Champs-Elysées, which is beautifully lit with festive illuminations. More than 150 wooden chalets line the streets, from mid-November right up until the 5th January, 2014.
Flea markets
Paris also has a proud tradition of flea markets, and with more than 3,000 traders, the Marché aux Puces de St-Ouen at the Porte de Clignancourt is among the largest in the world. This is the perfect treasure trove of antiques and other bric-a-brac, including vintage furniture, toys, ceramics and more. Situated on the Avenue de la Porte de Clignancourt in the Northeast of the city, the market operates every day of the week and is surrounded by boutiques and restaurants.
Those who prefer the idea of a smaller, more self-contained market should head to the Marche aux Puces de la Porte de Vanves on Avenue Georges Lafenestre and Avenue Marc Sangnier in the 14th arrondissement, another second-hand and antiquarian market making a name for itself in Paris. Open Saturday and Sunday only, it attracts a hip and bargain-hungry crowd every weekend.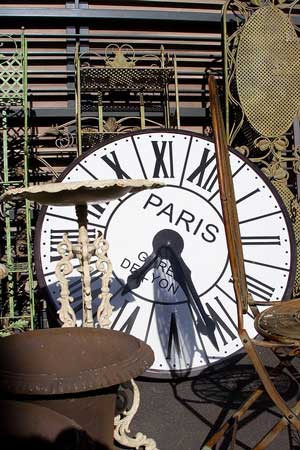 Seen at a flea market in Paris: Till Krech under Creative Commons licence.
Fans of vintage clothing, meanwhile, should check out Marché de Montreuil: a fashion-focused flea located well off the tourist trail at Porte de Montreuil in Eastern Paris. It runs Saturday to Monday.
If you're hoping to bag a flea market bargain in Paris, two pieces of advice will always apply: get there early - the best pieces go quickly - and be prepared to haggle, in French if possible! It also pays to keep an eye out for Vide Greniers (meaning 'attic clearances'), which are pop-up yard sales full of household items. These events can crop up almost anywhere, often in private homes: the best way to stay informed is to sign up to a mailing list such as Vide-greniers.org and run a search for 'Paris'.
Fabulous fashion
Paris is arguably the best-dressed city on the planet, so if you're looking to revamp your wardrobe, you've come to the right place! Designer fashion is well-represented in the city of course, and most of the world's most famous fashion houses have a presence here. But all styles and budgets are catered to in Paris - it's just a question of finding your scene.
High-end: Faubourg Saint-Honoré district
For those with a designer budget to blow, the Faubourg Saint-Honoré district is the go-to destination for luxury and designer labels. The big design houses such as Chanel, Givenchy and Christian Louboutin all have standalone boutiques here, alongside a wealth of exclusive boutiques.
For younger, hipper shoppers, Colette on Rue Saint-Honoré, offers designer swag with a real sense of fun in the heart of the fashion district. Specialising in high-end labels at the more youthful end of the spectrum, it stocks luxe labels like Isabel Marant, Kenzo, Vivienne Westwood and Dior.
Department stores: Boulevard Haussmann
If you're looking for a wider range of clothes shopping options in spectacular surroundings, head to the Boulevard Haussmann where you'll find the city's flagship department stores or Grands Magasins including Printemps and Galeries Lafayette. Beautifully lit and particularly ornate at Christmas, these stately stores have stood the test of time.
Here, you'll also find a good selection of luxe and designer items, but they sit alongside plenty of chains from the more affordable end of the high street - including Zara, Uniqlo and H&M.
High Street: Champs-Elysées
Shopping on the Champs-Elyseés. Image: Roman Lashkin under Creative Commons licence.
Often compared with London's Oxford Street, the Champs-Elysées is home to a heady mix of fashion brands from up and down the market. This is the place to go if you just want to engage in some hardcore shopping without too much in the way of sightseeing: for what it lacks in charm and cafés, the Champs makes up in its sheer shopping square-footage.
Fashion chains on the Champs-Elysées include Banana Republic, Gap, Agnes B, Monoprix, & Other Stories and Chanel.
If you enjoyed this post like us on Facebook and follow us on Twitter or follow our YouTube Channel.
Written by Abi Silvester, a London-based writer and editor with a passion for great food, fine wine, coffee and cats; always planning my next trip! @absinthecity
Top