Feeling the call of the sea? With the height of sailing season still months ahead of us here in Britain, there's plenty of time to plan the perfect break. Unless, of course, you want to venture further afield, where warmer weather and calmer seas await.
Here are our top global sailing routes for an exhilarating sea break, whether you want to charter your own boat or let someone else take the helm. Companies like Neilson and Sunsail are a great place to start when searching for sailing holidays around the world.
The world's best sailing destinations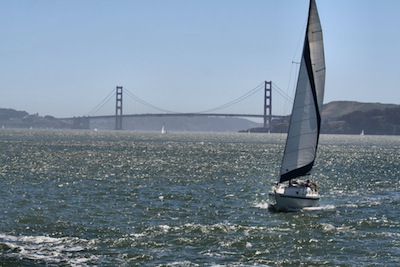 Sailing the Bay. Image: Michael Arrighi under Creative Commons licence.
1. San Francisco Bay
Surely one of the most iconic sailing routes in the world, this Californian trip-of-a-lifetime takes in the Golden Gate Bridge, Alcatraz and Angel Island, with the promise of breathtaking sunsets over the Pacific if you manage to pick a day without too much fog. The bay gets breezy and can be chilly, so it's best to embark on this particular voyage during the summer months if possible.
Those without their own boat or the skills to pilot one can book in a trip with Sailing San Francisco and many other tours that have sprung up to service demand for the many possible journeys. At the end, you can sit on the dock made famous by Otis Redding in his hit (Sittin' on) The Dock of the Bay, then hang out with Sea Lions at Pier 39.
2. South Pacific sailing routes
If you're looking for a desert island adventure complete with palm trees, white sand and a tropical climate, the South Sea Islands will (literally) float your boat. Well-known yachting routes like the "Coconut Milk Run" take visitors from California through to Tahiti via Hawaii or the Marquesas all the way to New Zealand, via the Cook Islands and Tonga - but there are plenty of opportunities to experience the wonder of South Sea sailing on a smaller scale by flying in to one of the beautiful island resorts. Here, you'll find a wealth of luxury hotels with traditional straw roofs, infinity pools and beach bars - and some of the most beautiful views on earth.
Musket Cove in Fiji is a great choice for combining a family holiday with a sailing adventure: its marina and yacht club provide visitors with all they need for short or longer cruises around the islands, while there's plenty to keep the whole family occupied back on dry land. Visit from 5th -10th September 2014 for Fiji Regatta Week, when the cove comes alive with yachting enthusiasts from all over the world to celebrate the sport.
Be warned: November to March is 'hurricane season' in these parts, so would-be sailors are advised to visit during the long peak season of May to October.
3. Greek Islands
Calm waters of Kefalonia...Image: Evoflash under Creative Commons licence.
Due to its sheer number of islands, Greece has a long history as a sailing nation, and for many the sea still provides the best route around many of the country's prime holiday destinations. In small sailing boats, visitors can hop around the islands, stopping off at beaches and harbours at a leisurely pace. The Ionian Islands; a cluster that includes Corfu, Paxos and Kefalonia, are particularly popular as a sailing route, and the large marina at Gouvia is a good base for sailors that is also close to many of the main tourist attractions on Corfu.
Island Sailing is one of many companies that rents out sailing boats to customers wishing to explore the islands by sea: there is also the option to hire an experienced skipper along with the boat on many routes, allowing you to fully relax and enjoy the view.
4. Galway, Ireland
The Long Walk, Galway, from the sea. Image: The Girl under Creative Commons licence.
Galway Bay in the West of Ireland has a rich and vibrant sailing community. With a long history of the sport, there are a wealth of sailing clubs and schools for those who want to get involved at all levels. The wild, choppy Atlantic against a green, rugged coastline sets the scene for adventure, while those who prefer a gentler introduction to sailing can gain confidence by learning the basics on Galway Lake.
Chartered luxury yachts are also available for hire, taking visitors through the scenic route from Donegal down to Cork in the South, with stops off at Galway en route. This is the perfect way to view the beautiful, unspoilt coastline in its entirety, with plenty of opportunities to take a break and enjoy some great food, music and craic en route.
5. French Riviera
Port of St Tropez. Image: Francois Philipp under Creative Commons licence.
Long considered to be the aquatic playground of the rich and famous, the French Riviera is home to a great many marinas and popular sailing destinations along the picturesque Mediterranean coastline.
Whether you're taking the helm or splashing out on a luxury charter, there are several fun-packed itineraries to choose from along the stylish Côte D'Azure. Visitors can choose to stick to a route that takes in tranquil fishing villages with the evocative scent of lavender in the sea air, or focus on the party zones of St Tropez and Cannes. Whichever you choose, you're guaranteed one of the best views of this timeless holiday get-away.
Can you recommend any great sailing holidays? If you enjoyed this post like us on Facebook and follow us on Twitter or follow our YouTube Channel.
Written by Abi Silvester, a London-based writer and editor with a passion for great food, fine wine, coffee and cats; always planning my next trip! @absinthecity
Top