If you're looking for retail therapy on your next holiday, you'll definitely want to check out the following cities, which have established themselves as shopping havens. From the biggest malls in the world to the quirkiest flea markets and thrift stores, there's something here for every type of shopper.
London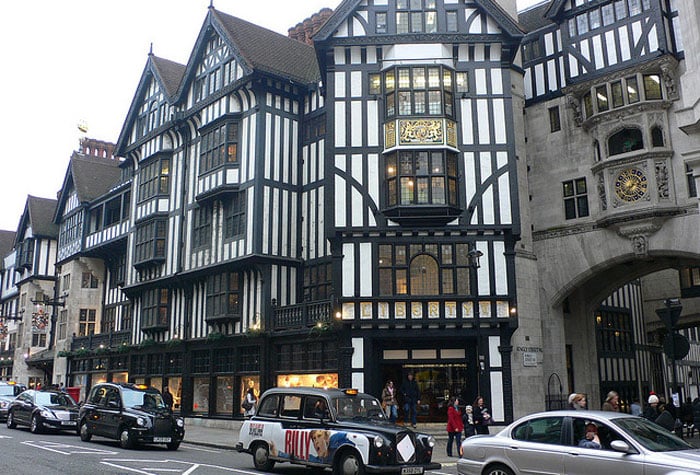 Liberty of London by Heather Cowper under Creative Commons license.
Ranked no.1 in Europe by the Globe Shopper Index, London's reputation as a prime shopping destination remains unshaken, and visitors to the city with money to burn will find considerable variety here. To put it another way, if you can't find it in London, you'll probably have trouble tracking it down anywhere...
The West End has all corners of the market covered, with Oxford Street's mid-market megastores sitting along side Bond Street and Savile Row, home to many of the more high-end, luxury stores. Just a short walk way is Liberty of London and Carnaby Street; birthplace of 'swinging London', while Camden Town is still a hotbed of alternative clothes and accessories.
Camden town by Simone Graziano Panetto under Creative Commons license.
The more cutting edge boutiques are clustered around East London's hipster hotspots including Shoreditch and Spitalfields: check out Sunday Up Market for a cool and laid-back crafty shopping spree, where you'll also be able to grab a bite to eat and a coffee. Those on a serious shopping mission can head to Westfield (Stratford or Shepherd's Bush) for hours of uninterrupted retail action.
Best for: the eclectic shopper
New York
Image by Focusedcapture under Creative Commons license.
Home to some of the most famous shopaholics, both real and fictional, New York is a shopper's paradise with a classic and sophisticated approach to the art of retail. The city has historically gone in for big, old-school department stores, and you can visit some of the greatest on Fifth Avenue, including Saks, Bergdorf Goodman and Tiffany's. There are boutiques from almost every major luxury brand in the world on Fifth, and once you're all shopped out, you can soak up some culture in the Avenue's Museum Mile.
Those looking to discover the hipper side of New York's shopping scene will also be spoiled for choice. For a taster of what's on offer, consider a visit to Space Ninety 8 (Williamsburg) - a new retail concept from Urban Outfitters and a store you may well want to move into, or Pixie Market (Lower East Side) an affordable style destination for all-things cute and trendy. Lovers of the great American thrift store should look up Housing Works; a chain with outlets across the city selling all manner of pre-worn gems.
Best for: the style-savvy sophisticate
Las Vegas
Vegas likes to do things on a grand scale, so it comes as no surprise that its malls are as big and overblown as its hotels. Many of the shopping areas share the same spaces as the super-casinos, such as the Forum Shops at Caeser's Palace; a detail that makes it particularly easy for big winners to become big spenders in a matter of minutes. Set under a fake sky complete with fluffy painted clouds, the ornate stores sell high-end wares from the likes of Gucci, Valentino, Christian Louboutin and Ferragamo.
Best for: big spenders
Paris
A global capital of style and haute couture, Paris has long been a prime destination for fashion, and this is as true today as it ever was. The Saint-Honoré district with its well-heeled boutiques looks down on the Champs-Elysées, whose high street appeal to suit those looking for clothes and accessories at the more affordable end of the scale.
If you'd prefer to shop off the beaten track, Paris has a thriving flea market scene that's currently experiencing a real boom: the sprawling Marché aux Puces de St-Ouen at the Porte de Clignancourt seems to get bigger and busier every year, while pre-loved furniture markets called 'brocantes' are springing up in all kinds of spaces from public squares to private homes.
Best for: the interiors addict
Dubai
Inside the Dubai mall by Pyb under Creative Commons license.
Home to the world's largest shopping mall and a spiritual home of retail, Dubai attracts hordes of shopping fanatics from all over the world. The malls here are attractions in their own right, built on a grand scale with no expenses spared. Almost every major worldwide brand you could name has a presence here, whether you're shopping for toys, high street fashion, designer swag or gadgets.
Best for: the luxe-lover
Hong Kong
Hong Kong's heritage as an international centre of trade puts it firmly on the map as a prime shopping destination, and if you're visiting the city and time soon, chances it won't be long before you find yourself in one of its world-class stores. Even if you're not planning on a shopping-spree you'll find something to marvel at in Hong Kong's stores - which include a mall with a full-scale roller coaster inside it. Look up the Dragon Centre if you'd like to check out this feat of engineering.
While you might expect to find a wealth of luxury and designer goods in Hong Kong's impressive malls and stores, another trend is emerging in the city's shopping scene: giant discount outlets. Bargain hunters will be in their element at Lantau Island; a beautiful spot in its own right that now plays host to more than 80 designer discount stores full of cut-price swag.
Best for: the bargainista
If you enjoyed this post like us on Facebook and follow us on Twitter or subscribe to our YouTube channel.
Written by Abi Silvester, a London-based writer and editor with a passion for great food, fine wine, coffee and cats; always planning my next trip! Follow her on Twitter.
Top