There's no doubting the benefits of staying at a cheap Stansted airport hotel before your holiday. Instead of an early drive to the airport, you'll be enjoying extra hours tucked up in bed just minutes from the terminal. At Stansted we have no shortage of cheap hotels.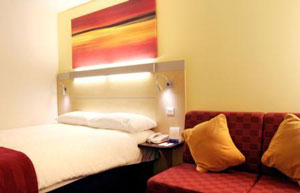 Why pre-book?
By pre-booking your cheap hotel at Stansted airport with HolidayExtras.com, you can secure a much lower price. We also run a Best Price Guarantee, which means that if you can find the same airport hotel product cheaper elsewhere within 24 hours of making your booking, we'll give it to you for FREE. Terms and conditions apply.
Where can you stay?
We have rooms at four 3-star hotels at Stansted airport: the Cock Inn Hotel, Holiday Inn Express Stansted, Warmans Barn House and the Whitehall Hotel. We can provide a cheap Stansted hotel room at the Warmans Barn House from just £69 per night. We can even provide a room with eight days' parking at the Cock Inn for just £79.
Undercover Hotels
When searching for your cheap hotel near Stansted airport, keep an eye out for our Undercover Hotels. We keep the hotel's identity secret until after you've completed your booking. By doing this we're able to provide rooms at a much lower price. You can choose between 3 and 4-star hotels, and it's a great way to book a more expensive hotel at a low price. If you want a cheap hotel at Stansted airport but want the luxury of a 4-star room, an Undercover Hotel is ideal.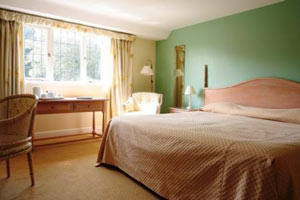 Upgrades
Once you've chosen your cheap Stansted airport hotel, we'll offer a range of optional extras to help save you money and hassle at the airport and on holiday. Among our range of upgrades is our FairFX currency card. The card usually costs £9.95 but can be added to your booking for FREE when you top it up with £10 credit. We also offer holiday insurance, airport lounges and traffic news on your mobile phone.
Star ratings
One of the best ways to pick out cheap hotels at Stansted airport is by looking at the star ratings. The lower the star rating, the cheaper the hotel will be. We have 3 and 4-star hotels at Stansted - our 3-star hotels are the best ones to go for when booking a cheap hotel at Stansted airport.