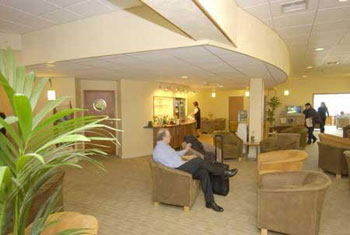 With our range of Edinburgh airport hotel upgrades, you don't need to shop around for travel insurance or go without breakfast when you don't have to. Do away with the stress of planning your extras separately by adding any of our Edinburgh airport hotel upgrades to your booking. It's the easy way to save time and money.
What Edinburgh airport hotel upgrades can I add to my booking?
The Quality Hotel offers plenty of opportunities to save money when you book a dining upgrade. You can enjoy their Scottish breakfast for only £8.50, saving £5.50 per person, or book dinner at the reduced rate of £25 per person, down from £40 per person. If you really want to start the holiday early, a bottle of red or white wine can be added to your hotel booking for only £10, saving you £3.50.
You can also add the following upgrades to any Edinburgh airport hotel booking:
Airport lounge: Book the Servisair airport lounge and escape the crowded terminal. You'll be able to relax and enjoy complimentary drinks, snacks, newspapers and magazines. Free WiFi is included and you'll be kept updated via the flight information screens.
Travel insurance: When you book our travel insurance upgrade, everyone on your HolidayExtras.com® booking will be covered for one set price. Don't miss out on this great offer by adding European or worldwide insurance to your booking.
Holiday currency: The FairFX card is a Mastercard which works just like a debit card and doesn't charge transaction fees. It allows you to take your spending money away with you on a currency card, rather than carrying large amounts of cash around in an unfamiliar country. You can load your card with euros or dollars, and top-up online at any time.
Traffic assistant: Our traffic assistant text service can be added for just £1. We'll text you on the day you're travelling to tell you where the queues and long delays are, so you'll have plenty of time to plan around them.
Top