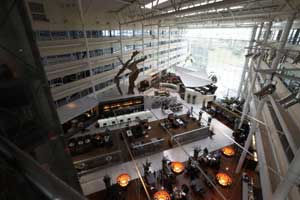 While all our Heathrow airport hotels are within a few miles of the airport, we also offer two hotels connected to the Heathrow terminals. Book one of these and forget the middle-of-the-night dash to the airport and the transfer bus to the terminal. Just spring out of bed and stroll to the check-in desk.
Why book a hotel connected to Heathrow airport?
The transfer bus might only take five minutes, but when your flight's early in the morning, that's five more minutes' sleep you could have had. A hotel connected to Heathrow airport is the most relaxing option you can choose. If you want, you really can get up 15 minutes before you need to check in for your flight. Just pick up a luggage trolley in reception and take a short stroll along the covered walkway to the terminal.
We've two hotels connected to the Heathrow terminals. The 4-star Hilton Heathrow is connected to Terminal 4, and the 5-star Sofitel Heathrow is connected to Terminal 5.
Hilton Heathrow
This sophisticated, ultra-modern hotel has a beauty salon, three restaurants, a bar and even a British Airways check-in desk. All rooms have a minibar, soundproofing, blackout curtains, a full-length mirror and reading lights. There's even a golf cart you can hire to transport those bulky bags.
Sofitel Heathrow
Enjoy a Turkish bath, a dip in the jacuzzi or a massage in the superb spa at our most luxurious Heathrow hotel. The Sofitel has two restaurants, two bars, a gym and a tearoom. In your room, you'll get a queen-size MyBed, a minibar, a flatscreen cable and satellite TV and luxury toiletries.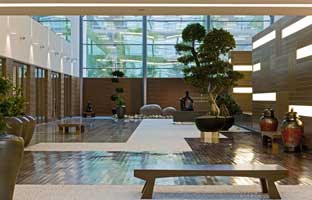 Upgrades
We've a wide range of hotel upgrades which you can add to your booking at the Hilton or the Sofitel. After you click the book button, a list of upgrades will come up for you to choose from.
At the Hilton you can upgrade to an executive room, with access to the top-floor executive lounge. At the Sofitel you can book yourself an English breakfast for less than you'd pay at the hotel, a spa treatment or a massage, or upgrade to a better room or family-sized junior suite.
At both hotels you can book yourself into one of our Heathrow airport lounges, get traffic updates by text on the day you travel, and sort out your holiday currency and holiday insurance.