All our Gatwick airport hotels are located within a short driving distance from the airport. Below is a list of directions how to find each hotel. You can click on the pins on the map to show the hotel name and address.
Enter your postcode for directions:
Longitude
-0.15950
Latitude
51.15610
Gatwick Address
Gatwick,
London Gatwick Airport,
Gatwick,
West Sussex,
RH6 0JH

Gatwick hotels: The options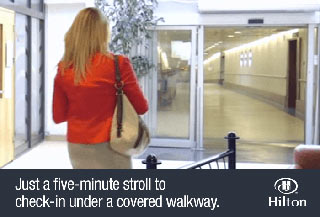 On-airport hotels: These are within the airport grounds, so transfer times to the terminal are very quick. You can see which hotels are on-airport in our hotel comparison table or alternatively take a look at our Gatwick on-airport hotels page. We even have Gatwick hotels connected to the terminals so you can sleep in that little bit later and push that alarm clock even further back.
Off-airport hotels: Usually less expensive than on-airport hotels, off-airport Gatwick hotels are outside the airport grounds but won't be more than a few miles away. They usually provide you with transport to the airport for free or at a reduced rate. Two of our most popular are the Gatwick Europa and the Gatwick Worth.
Top tip
Read our Gatwick hotel reviews before you book. It's testament to the quality of our service and our Gatwick hotels. We're proud to say that 99.88% of our customers are happy with our service - and we're working on the other 0.12%.
We'll arrange your transport
If you don't have a car, can't take it to the airport or just don't want to drive there, we'd still like to help you save money on your transport. We can arrange return rail or coach travel to Gatwick airport for the whole family at discounted prices.
If you're travelling by train, kids can go free*. For more details visit our Gatwick airport by rail and Gatwick airport by coach pages.
Top tip
You may need to spend a while at the airport after you've checked-in. Take a moment to plan your time and see what shops, restaurants and bars there are at Gatwick airport. You could also read up on the Gatwick baggage restrictions before you pack everything to make sure you have your hand luggage sorted in advance.
*Child discounts are dependent upon the route and train operator. Free travel for children is not available on routes via the Transpennine Express - on these routes children are charged at half the adult fare.
Directions to each Gatwick Airport Hotels
Getting to the Airport Inn Gatwick | Map and instructions
How to get to the Airport Inn at Gatwick airport by car or by public transport. Holiday Extras provide directions with every booking confirmation.
Gatwick Alexander House Directions | How to get to Alexander House
Directions to the four star Alexander House Hotel at Gatwick Airport. Hotel Address: Alexander House Hotel, Turners Hill, West Sussex, RH10 4QD
Gatwick Airport Copthorne Directions | Map and directions for the Gatwick Copthorne
Directions and map for the Copthorne Hotel Gatwick Airport. The Copthorne hotel is surrounded by lush countryside yet close to Gatwick airport. Address: The Copthorne Hotel, Copthorne Way, Copthorne, West Sussex, RH10 3PG
Gatwick Crowne Plaza Directions | Map and directions to the Crowne Plaza at Gatwick
We provide directions to the Crowne Plaza when you book but you can also take a look at this page to see the location on a map and note the directions if you wish.
Directions to the Gatwick Hampton by Hilton | Map & directions
Map and directions for getting to the Hampton by Hilton at Gatwick Airport. If you're travelling by car, check the roads and your route to the airport before setting out.
Holiday Inn Gatwick Worth directions | Gatwick airport
Directions to the Holiday Inn Gatwick Worth. The Holiday Inn is set in parkland in the heart of Sussex countryside within easy reach of the airport. Address: Holiday Inn Gatwick Worth, Crabbet Park, Turners Hill Road, Worth, West Sussex, RH10 4ST
Gatwick Airport Holiday Inn Directions | How to get there
Located just outside the Gatwick airport perimeter, the Holiday Inn is close to the terminals and easy to reach from the M23- it couldn't be simpler.
Directions to the Gatwick Ibis | Map and directions to the hotel
Directions to the Gatwick airport Ibis Hotel. The Ibis offers quality budget gatwick airport accommodation. Address: Gatwick Ibis Hotel, London Road, County Oak, Crawley, RH10 9GY
Gatwick Langshott Manor Hotel Directions | Map and directions for Langshott Manor
Directions to help you find Gatwick Airport Langshott Manor Hotel. Langshott Manor is a 3 star restored 16th century manor house, set in its own award winning gardens. Address: Langshott Manor, Langshott, Nr Gatwick, Surrey. RH6 9LN
Marriott Lingfield Park Gatwick | Easy to follow map & directions
Our directions will get you to Marriott Lingfield Park at Gatwick as quickly and easily as possible. You'll be there in no time!
Directions to the Premier Inn Gatwick North | At the airport
Directions and a map to help you find the Premier Inn Gatwick North. The hotel is opposite the North terminal, within walking distance of check-in.
Direction to the Gatwick Sofitel | Map to the hotel
Need some help finding the best route to the Sofitel at Gatwick airport? Refer to the map and follow our directions to get you there hassle-free.
Directions to the Travelodge Gatwick Airport Central
Directions and a map to help you find the Travelodge Gatwick Airport Central, in Povey Cross Road, Horley, RH6 0BE. The hotel is just a mile from the airport.
Gatwick White House Hotel Directions | Gatwick Airport
Directions to the Gatwick White House Hotel. A guest house style hotel with a friendly atmosphere, located just minutes from Gatwick Airport. Address: The Whitehouse Hotel, 52 Church Road, Horley, Surrey, RH6 7EX
Top