There's a simple way to secure an amazing deal when looking for Manchester airport hotels: Manchester Mystery airport hotels. The name of the hotel remains a mystery until after you've made your booking but it is always a hotel from our normal, excellent portfolio.
How it works...
HolidayExtras.com selects 3-star and 4-star Mystery Manchester airport hotels, making them available at a discounted price. Instead of declaring the name of the hotel in advance, we'll only tell you the name of the hotel once you have booked. This enables us to allocate rooms according to availability and charge a lower rate in doing so. It's a win-win scenario. You're guaranteed a room at one of our great Manchester hotels at a fantastic price.
Just make a search by entering your dates into the fields at the top of this page and our Mystery hotel options will be displayed amongst the usual deals so you can compare and choose from amongst all our great hotel offers at Manchester airport.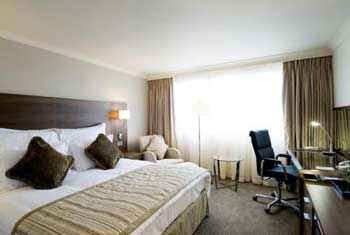 Our Mystery airport hotels at Manchester are classified by star ratings, so you'll know before you book whether you'll be staying at a 3-star or a 4-star hotel. We also sell hotels that are either within the airport grounds, or very close to them. The Mystery Manchester hotel you book will provide transfers to the terminals, possibly at a small charge, or will be just a short walk away.
If you're already starting your trip early with an Mystery hotel at Manchester airport, why not add our hotel upgrades to your booking? You may, for example, choose to carry on that holiday feeling with a Manchester airport lounge. With FREE drinks and snacks, along with some peace and quiet, you can kick back and relax before boarding your flight.