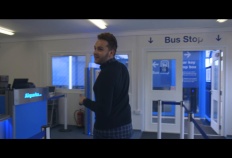 Why do our customers love Airparks so much? It could be that it's the lowest-priced Birmingham airport parking we sell, but there's more to it than that. Your money will be well spent on a secured car park with staff patrols and CCTV. There are regular transfers on Airparks buses and you get a friendly service from staff who will actually park your car at Airparks for you, so you don't even need to hunt for a space. Once our customers have parked with Airparks, 98% don't want to go anywhere else, and we're sure you won't either.
See more Airparks customer reviews
Overall rating: 86%by 9397 guests
This car park is just 14 minutes from the terminal, and with included, regular transfers 24/7 it's a great option for parking at Birmingham.
Need to know:
This car park is a 14-minute shuttle bus ride to the airport and has some excellent modern facilities.
Park your car and check in at reception, there's a drop box just outside where you'll need to leave your keys so a member of the team can park your car for you. Then you just need to catch the shuttle bus to the airport, which is around a 14-minute journey. The bus runs every 25 minutes, 24 hours a day, and is included in the price. There's free wifi on board too.
When you return the bus will pick you up where it dropped you off.
Maximum vehicle dimensions are 2m wide x 2.1m high x 5m long. The car park cannot accept any high-sided vehicles, minibuses, mobile homes, lorries, caravans, trailers or vehicles larger than the above maximum dimensions. Vehicles with a taxi license plate can be parked on-site, but cannot use the Return Greet or Meet and Greet services offered by Airparks.
Accessibility:
The car park has:
- Accessible spaces and toilets, plus well-lit bus shelters.
- The buses lower, and have ramps and space for a wheelchair.
Give Airparks a call 30 minutes before you arrive if you need any assistance.
Facilities:
The car park has well-lit, heated bus shelters, toilets and free wifi.
Security:
The car park is secured by:
- Perimeter fencing
- Entry and exit barriers
- CCTV
- Regular staff patrols
The small print:
If you're planning on returning early try and give the car park as much notice as possible so they can have your car ready for you.
Getting to and from Birmingham airport
Arriving at the car park:
When you reach the car park the barrier will lift and you'll be able to drive in and find a space in the drop-off area. Remember to take note of your lane number.

Check in at reception, or use one of the self-service kiosks, and you'll be given a ticket which you'll need keep hold of until you return.

Drop your keys into the key-drop box outside reception – make sure you put them in the correct box for your lane number – and catch the shuttle bus to the terminal.

Use of the bus is included in the price, and it runs every 25 minutes, 24 hours a day. The journey time is around 14 minutes, plus there's free wifi on board! Your car will be parked for you while you transfer to the terminal.
Returning to the car park:
Catch the shuttle bus from where it dropped you off at bus stop A. Once you're back at the car park, head to the check-out shelter with your ticket and follow the instructions on the key dispenser – it will return your keys and tell you where your car is parked.

On your way out just insert your ticket into the exit barrier and wait for it to lift. Don't worry if you lose your ticket, just take your photo ID to reception and answer some security questions.
Birmingham Airparks Address
100 Mackadown Lane,
Garretts Green,
Birmingham
B33 0JD
Longitude -1.76787
Latitude    52.47208
* Prices quoted are based on parking from the 10-07-2018 untill the 17-07-2018, valid as of 10-05-2018
Top