By pre-booking your cheap airport parking at Stansted, you can guarantee your space and secure a much lower price than if you turn up on the day. If you pay the gate rates at an airport car park, you could pay as much as £72 for an eight-day stay. With HolidayExtras.com, you'll pay just £42.80 for those same eight days. When looking for cheap airport parking at Stansted, it makes sense to pre-book.
Security
All our cheap airport parking options at Stansted feature extensive security measures. Every car park is the holder of a Park Mark security award, and they all have barriers, fencing, CCTV coverage, floodlighting and regular staff patrols. When parking your car with us at Stansted, you can fly away safe in the knowledge that your car is being well looked after.
Cheapest parking at Stansted
Our cheapest car park at Stansted is the Stansted Long Stay car park. At £5.35 per day it's slightly cheaper than Stansted Mid Stay parking, and represents a substantial saving over the Stansted Official Valet Parking Meet and Greet service.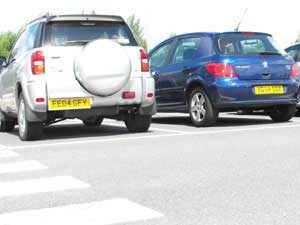 Save more with a SuperSaver
A fantastic way to save extra money is to go for one of our SuperSaver or Advance Purchase deals at Stansted. A SuperSaver at Long Stay or Mid Stay means you won't be able to change your mind and cancel your booking later, but you will save a lot of extra money. With a SuperSaver package, the airport will guarantee a lower price on Long and Mid Stay than at any off-airport car park at Stansted.
Airport parking upgrades
Once you've chosen your cheap airport parking at Stansted, we'll give you the chance to choose from a number of upgrades to help save money and hassle at the airport. You can insure your entire travelling party from just £9 for 10 days to Europe and £17 to the rest of the world. Perhaps our best value upgrade is our traffic text service. For just £1, we'll send the latest traffic information to your phone the day you're driving to the airport. It could prove priceless if it helps you avoid missing your flight.