In addition to Meet and Greet parking, there's two options at Manchester airport: Short Stay and Long Stay parking. But what are these two forms of parking, and how do they differ?
Short Stay Manchester airport parking means car parks that are within walking distance of the terminals. Short Stay parking costs a little bit more than Long Stay, but means you enjoy added convenience. Long Stay parking, meanwhile, refers to car parks that are still close to the airport, but have transfers to take you to and from the terminals. Long Stay parking costs a lot less than Short Stay Parking and represents our greatest value for money parking option.
Manchester airport Short Stay parking
The official Short Stay car park at Manchester has recently been renamed the T1/3 Mid Stay. The car park, serving terminals 1 and 3, is in the same location and offers the same service - the only thing that's changed is the name. Mid Stay T1/3 boasts ultra fuss free parking procedures (keep your keys and choose your own space) and quick and easy transfers (walk to both terminals in less than 5 minutes).
The multi-storey car parks at Manchester airport are also classed as Short Stay parking, and are connected to each terminal at Manchester airport. If you're travelling with children, carrying lots of luggage, have a disability or just want to get to check-in fast, Short Stay parking is ideal. You can't get any closer than parking in a multi-storey car park; simply park, unload your luggage and walk to the terminal.
Security is first-class too. All official Manchester airport car parks have been awarded the industry-recognised Park Mark award. To be awarded the Park Mark, car parks have to undergo police inspection and offer modern security measures. Each car park has entry and exit barriers, CCTV, regular staff patrols and cars are parked undercover.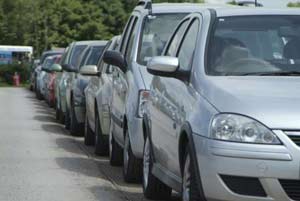 Manchester airport Long Stay parking
Manchester airport has two Long Stay car parks. One Manchester airport Long Stay car park serves Terminals 1 and 3, while the other serves Manchester airport Terminal 2. Both Long Stay car parks are close to the airport and run regular five-minute transfers around the clock.
The Long Stay car parks are fully secured and patrolled regularly by security staff. They both feature security fencing and good floodlighting, and have been awarded the Park Mark award. Car parks which have been awarded the Park Mark are regularly reinspected by the police.