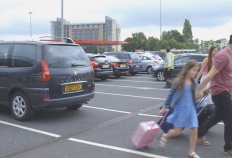 Quick transfers to T2
Start and finish your holiday in style by booking Manchester Airport - Meet and Greet T2. Simply drive to the entrance of the car park, drop off your car and follow the footpath into the Terminal. Yes - it really is that easy. It's your holiday after all so why shouldn't you feel like a VIP?
Meet and Greet is the ideal option: a speedy and luxurious start to your holiday. It's the easiest and the fastest parking option.
When you arrive at the car park:
- Drive to the terminal (the full address and directions will be on your confirmation email).
- Go through the inspection area - this will automatically scan your car and record its condition so you can be sure it'll be returned exactly as you left it.
- Park your car and hand your keys over at reception - a fully-qualified driver will park your car for you.
- If you need to collect your car from a different terminal than you depart, tell the reception team when you arrive.
- Follow the short path to check-in, which takes 3 minutes.
Security:
Your car will be stored at a secured Manchester airport car park with fencing and entry/exit barriers.
Accessibility:
- The car park has Blue Badge bays which are clearly signposted in the car park, follow the blue line.
- For wheelchair users or anyone with mobility problems your car will be parked next to the Meet and Greet building or in one of the Blue Badge parking bays.
- The walk to the terminal takes only a few minutes and is doable by wheelchair unaided.
- If you need airport assistance you'll need to arrange it when you book your flight and on the day go to the Meet and Greet office so the OCS can be called to come and meet you.
When you get back to the car park:
- Take the 3-minute walk back to the car park reception.
- They'll give you your keys and tell you where your car is.
- The car park is laid out clearly, so you won't need to follow any signs to get out.
Hints, tips and extra bits:
- This car park has a maximum height restriction of 2 metres or 6 ft 6 in.
- The car park has luggage trolleys near the arrival lanes - you'll need £1 to use them.
- If you're delayed picking your car up you'll need to pay for the extra parking. You'll be charged the car parks' overstay fee which is currently £25 per day (June 2017). If you pick your car up early we can't give you a refund.
Getting to and from Manchester airport
Just head to the drop-off near Terminal 2, leave your car with your designated driver at reception and make the short walk to the terminal. Your driver will park your car for you.

When you get back, just retrieve your keys from the office and they'll tell you where your car is parked nearby.
* Prices quoted are based on parking from the 25-09-2018 untill the 02-10-2018, valid as of 26-07-2018
See more Manchester Meet And Greet T2 customer reviews
Overall rating: 92%by 12638 guests