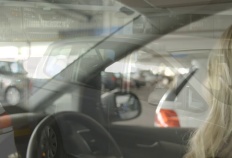 Save more
You're going on a break, so why not give your car a break too? A break from the British weather! Undercover and within walking distance of the terminal - that'll be the Multi-Storey at Terminal 2. It's not hard to see why the Multi Storey is our most popular Manchester Airport Parking option.
You're in control from the very start; you get to choose your space and keep hold of your keys. When you're ready it's just a short, undercover stroll to Departures. There's no need to stress about your car while you're away; the car park has been awarded the Park Mark and is equipped with barriers only accessible to guests and staff. On your return your car will waiting exactly where you left it - perfect for a speedy getaway home. Multiple reasons to choose Manchester Airport Multi Storey car park for Terminal 2 and the sooner you book with Holiday Extras, the more you'll save.
When you arrive at the car park:
- Drive up to the barrier and your numberplate will be recognised.
- The entry barrier will then lift automatically.
- Drive in, park in any space and keep hold of your keys.
- Walk to the terminal, which takes less than 5 minutes.
Security:
- CCTV
- entry and exit barriers
- 'Park Mark' awarded.
Accessibility:
The car park has designated Blue Badge bays, which are all signposted. They work on a first come first served basis and you'll need to display your badge whilst you're away.
When you get back to the car park:
- Walk back to the car park from the terminal.
- Drive to the exit barrier and it will lift automatically. If it doesn't raise press the intercom button for assistance and quote your reference number.
Hints, tips and extra bits:
- The car park has a height restriction of 2 metres.
- If you're delayed picking your car up, you'll need to pay for the extra parking at the car park's normal rate, which is £25 per day; prices are subject to change.
- If you pick your car up early, we can't give you a refund.

Prices correct as of February 2017.
Getting to and from Manchester airport
When you're ready to fly, it's just a short stroll into the terminal. You'll be there in a couple of minutes.
Manchester Multi Storey Terminal 2

Address

Manchester Airport - Multi Storey T2,
Manchester Airport
M90 1QX
Longitude -2.27814
Latitude    53.36802
* Prices quoted are based on parking from the 21-11-2018 untill the 28-11-2018, valid as of 21-09-2018
See more Manchester Multi Storey Terminal 2 customer reviews
Overall rating: 92%by 6749 guests
Top