Big January Giveaway - Click Here For More Details
Travel Insurance from just
*
What is travel insurance?
To put it simply: travel insurance or 'holiday insurance' is a precaution. When going on holiday you invest money in your trip: from transport, parking, accommodation and luggage — not to mention your health too.
When you book a travel insurance policy, you're buying security. If anything should go wrong before your holiday, while travelling or when you're away, you can relax knowing that Holiday Extras has you covered against insurable, unforeseen incidents that could negatively impact your holiday.
Whether you need a single trip policy, an annual travel insurance policy to cover you for 365 days, or maybe you're setting sail and need cruise insurance — we have a wide array of comparable cover level options for you to choose from.
Four reasons to choose Holiday Extras as your travel insurance provider:
1. Flexible policies

2. Trusted providers

3. Medical specialists

4. Cruise cover specialists

Four different cover level options
to suit your travel needs
Voted best insurance provider by the Globe Travel Awards 2019
We will consider all medical conditions
Specific cruise cover for itinerary change, cabin confinement and abandonment
No upper age limits on Single Trip

**

Rated 4.2 out of 5 on Trustpilot
Up to £10 million worth of medical cover
Increased cancellation cover available
Single or Annual? Europe or Worldwide?
Recommended and used by over 500 travel agents
Over 30 trained insurance experts in the contact centre
A choice of three different cover levels
Tailor your policy with extras such as gadget cover, winter sports, extreme sports
Award-winning Kent-based contact centre
24/7 online medical screening
We offer medical and non-medical cruise policies
With a travel insurance policy:
If you need medical attention while abroad we can pay for your medical bills.
If your bags are damaged or stolen we can financially compensate you towards the total cost.
If you can't go on your holiday due to unforeseen circumstances we can pay towards the overall amount.

***
Why is travel insurance important?
When you purchase travel insurance you are in essence protecting yourself against travel risks. The most common being cancellation of your holiday, stolen luggage and medical cover.
According to The Association of British Insurers (ABI).
3,000 Britains require emergency medical treatment abroad every week.
The average medical claim now supasses £1,300
£145 million was paid out for 167,000 cancellation claims
The average claim relating to heart problems in the US is £241,000
Despite this, one in five Brits travel overseas without travel insurance. Having a suitable policy in place not only gives you peace of mind, but can really save you a small fortune should the worst happen.
Why do I need travel insurance for my holiday?
While no one wants to think about worst-case scenarios on holiday, it is worth having a safety net in place should something go wrong down the line that could potentially leave you out of pocket. That's why it's i'm portant to have the best travel insurance for your own specific needs.
Medical insurance
Searching for the right medical insurance isn't necessarily the hard part — it's finding good quality insurance that doesn't compromise on cover for cost.
With a Holiday Extras policy, you can get up to £10 million worth of medical insurance should anything happen to you while abroad. While this initally might seem like an enormous amount, and maybe even unnecessary for you, the cost health care abroad is wildly more expensive than it is at home in the UK. Without the NHS, you can be looking at huge medical bills for an ambulance and emergency medical consultation abroad. If travelling uninsured, the bill will fall on you.
If you currently have a pre-existing medical condition, or have previously had one, then you will need to declare your condition(s) during the medical screening process which, based on your condition, will elevate the price of your policy depending on the level of "risk" associated with it.
We will consider all medical conditions and offer cover for the majority of pre-existing conditions. This includes all forms of cancer.
How to declare a medical condition
Below you will find a detailed idea of what to expect from the questions and format of our discreet medical screening process:
---
Holiday cancellation insurance and curtailment
If you can't go on your holiday for unforeseeable circumstances or reasons beyond your control, with a travel insurance policy you can claim on holiday cancellation cover to reimburse any money you lose out on by having to cancel your trip.
Depending on the total cost of your holiday — from money spent on flights and airport transfers, to accomodation and pre-paid expenses for excursions — you can select a cover level which appropriately covers the amount paid by a traveller to go on the trip.
We offer cover which can pay up to £5,000 for your share of any lost pre-paid expenses which you cannot get back or be transferred.
If you have to cut your trip short (curtailment) if any of the following reasons happen while on your trip: a family member, travelling companion or business associate becomes ill, injured or dies. You might be called for jury service, or be a member of HM Forces and have your leave orders cancelled.
Baggage
It can be one of the most stressful and irritating situations to happen while you're on holiday. Sadly, it does happen. Losing your luggage while in transit — either by the airline, or a transfer — is the last thing you want to happen.
If your checked-in baggage is delayed and does not arrive at your trip destination within 12 hours, we can pay up to £500 in compensation.
Repatriation
No one wants to think of the absolute worst happening, but sometimes it pays to be prepared and understand what exactly you're covered for. Repatriation insurance covers you for an unexpected return journey home due to medical reasons and is included under emergency medical expenses.
With a Holiday Extras insurance policy, with Silver, Gold and Platinum you can get up to £10 million for medical expenses and repatriation. Should there be an emergency, things like transportation, medical escorts and even possibly air ambulances all add up.
If you're at all worried about your children going on holiday on their own, you will be pleased to know that all under 18s receive the same level of repatriation and emergency medical expenses. We can even provide a responsible escort to accompany them home if needed.
Missed departure
You can claim on your travel insurance if you are late in checking in at your international destination for any of the following reasons:
If you miss your pre-booked departure from your home country (outbound) because your flight, train, bus or boat (public service) was delayed, cancelled, or affected by extreme weather or a strike.
If while on the way to the airport your car breaks down, or you're involved in an accident and makes you miss your departure.
If any of the following scenarios happen we will pay you:
Up to £1,000 for the cost of alternative transport you had to take to get to your destination.
Up to £500 for the cost of alternative travel and accomodation arrangements you had to make in order to reach your destination.
Delayed departure
If your departure from your international departure point was delayed by more than 12 hours because of a disruption to your transport providers' service, we will pay:
Up to £100 for every 12-hour period that you are delayed
With a maximum of £800
Compare travel insurance cover levels
Depending on the amount you like to travel, we have 2 policies you can choose from: a Single Trip policy to cover you for that one trip, or an annual policy for the frequent traveller.
You can then choose from four levels of cover, each differently priced, ranging from a basic and essential cover to a higher, premium level of cover.
| | Bronze | Silver | Gold | Platinum |
| --- | --- | --- | --- | --- |
| Baggage cover | £500 | £1,500 | £2,000 | £2,000 |
| Cancellation cover | £1,000 | £2,500 | £5,000 | £5,000 |
| Medical cover | £5 million | £10 million | £10 million | £10 million |
| Excess charge | £150 | £100 | £50 | £0 |
| Lost passport | £250 | £250 | £300 | £350 |
| Personal money | £300 | £350 | £400 | £500 |
| Wedding cover | X | X | £1,500 | £1,500 |
| Gadget cover | X | X | X | £500 |
Additional cover options
We have a great and varied selection of optional cover you can add on to your travel insurance policy for extra safety. Depending on the type of holiday you're going on, what you will be bringing with you or what you plan on doing, we can offer flexible cover which you can add on to your policy as you see fit.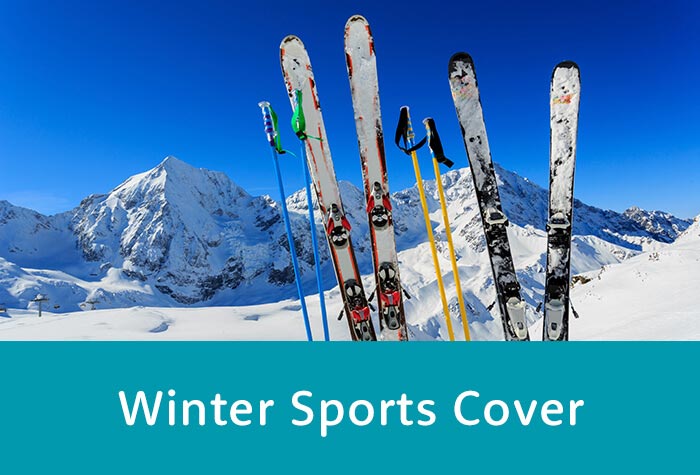 We want to make sure you are covered for whatever winter sports activity you choose. With our winter sports add-on cover you will have the necessary extra cover in place if you plan on skiing, snowboarding, outdoor ice-skating, ice-windsurfing or snowmobiling. By upgrading your policy to include insurance for more extreme winter sports, you taking out cover specifically designed to protect you and your equipment. So should your hired ski equipment or your own snowboard get damaged, you can be financially compensated.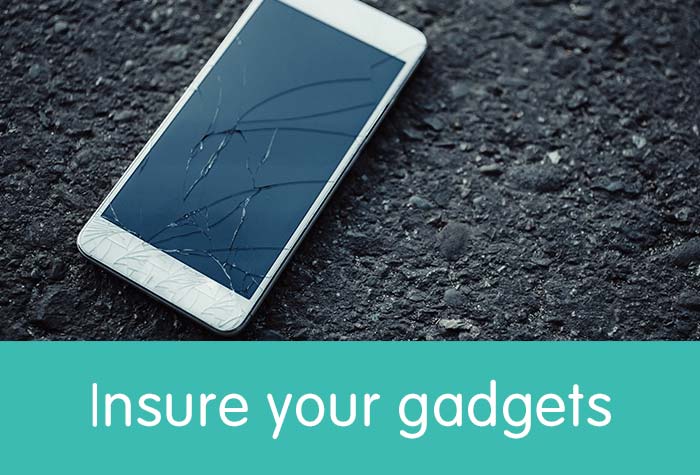 Make sure all your technology is insured and protected while you're away with our handy gadget cover. With 3 different levels to choose from, you can get varying protection to mirror the value of your gadgets. We offer cover against loss, accidental damage, malicious damage and unauthorised usage.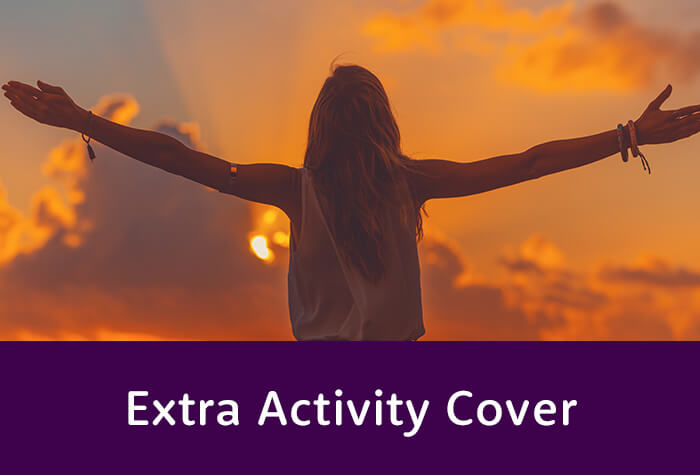 Our Extra Activity Cover can be added on top of your policy at checkout. The 4 activity packs contain a huge number of different sports and activities so that whatever the activity, you can rest assured that you will be covered. Whether you're quad biking, water skiing or ziplining, we can cover you. If something you fancy taking part in isn't listed here, give our contact centre a call and we'll see how we can help you.
FAQs
Finding and booking travel insurance can be a potentially confusing and time-consuming affair. That's why we've put together this list of the top insurance queries, so you can spend less time being confused and more time getting on with your holiday plans.
---
Searching for your policy
If you're not sure what you need out of a travel insurance policy, you can cut down your searching time with these essential Q&As:
Policy terminology
We've tried to allievate some of the mystery surrounding a lot of the jargon used in the insurance industry, so you can feel confident in finding a policy most suitable for you.
Single and Annual policies
Not sure whether to buy a single or an annual policy? Have a look at the differences below to gauge what will best suit your travel plans.
Medical questions
Finding the right medical cover for any pre-existing conditions you might have is the more complicated aspect of travel insurance. It's so important to get right, and is one of the biggest costs when making a claim. To find out exactly what you need to know before booking your medical cover, take some time to read over customers' most pressing medical-related questions.
Managing your policy
Once you have made your booking, find out the best ways to access your policy and help us answer any other transactional questions you might have.
While travelling
Hopefully nothing out of the ordinary will happen while you're away, but it never hurts to be prepared and to have insurance-related questions for when you're abroad.
Making a claim
If your holiday is affected by an unforeseen circumstance and you need to make a claim, our claims process couldn't be simpler.
Have your personal information to hand i.e. policy number, D.O.B. and address.
Fill out a form online with our underwriters, TIF or call on 0203 824 0654
Check you have the relevant supporting documents to send away i.e. police reports or receipts
For more information please visit our claims process page.
Policy wording
Here at Holiday Extras it's our mission to make your trip as hassle-free for you as possible. That's why we have compiled all of our Policy Documents on to one concise page, allowing you to fully understand what you're covered for.
Travel insurance reviews
Getting a quote online is quick and easy. Just click.
Get a quote
Voted best insurance provider 11 years running by the Globe Travel Awards in 2019.
---
*
***Policy exclusions apply. Be sure to check check the full policy wording for cover terms.
Holiday Extras Cover Ltd and Holiday Extras Ltd are authorised and regulated by the Financial Conduct Authority. Holiday Extras Cover Ltd 05058680 and Holiday Extras Ltd 01693250 are registered in England and Wales. Registered address: Ashford Road, Newingreen, Kent CT21 4JF.
Holiday Extras is underwritten by Travel Insurance Facilities plc which is authorised and regulated by the Financial Conduct Authority. Registered address: 2nd Floor, 1 Tower View, Kings Hill, West Malling, Kent, ME19 4UY. Company number 03220410.